Leisure activities at Madiran are closely linked to winemaking traditions.
Madiran is a municipality in the Hautes-Pyrénées, in the region of Occitanie, 40 km north of Tarbes on the boundary of the Pyrénées-Atlantiques department. Covering a surface area of 15 km², its territory is part of the natural and historical region of Gascony, occupying hills that overlook a meander formed in the Adour valley.
Already occupied in Ancient Roman times, the town developed from the 11th century onwards with the establishment of a priory and its future became quickly linked to that of its vineyards planted a millennium ago.
However, unlike other regions, vineyards scarcely make their mark on the landscape: other crops are associated with those of Cabernet, Sauvignon, Tannat, in particular to produce grains, soy beans and fruit (kiwi). Moreover, oak and chestnut woodlands can still be seen.
"Concentration, strength and texture combined with an elegant, round, silky, tactile and fleshy character". That's how we describe a Madiran when we taste it! The "Vignobles et Découvertes" seal of approval guarantees the quality of the tourism services provided in this area.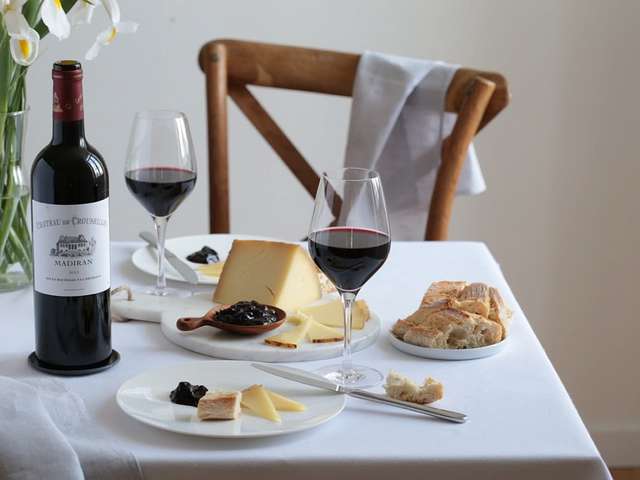 The wines

Tannat is the iconic grape variety of the Madiran wine, giving it structure and originality. Cabernet Franc, Sauvignon and Fer-Servadou are complementary grape varieties that provide flexibility to the winemaking process.
The Sommelier's advice:
"Perfect for pairing with red meat, game and cheese…". In fact, Madiran, a full-bodied red wine, may be extremely tannic when it is young. Later on, it develops spicier aromas with notes of roasted coffee and black berries.

International Gastronomic Tourist Destination
DISCOVER THE FIVE REGIONS OF DESTINATION