Food lovers out there, this is the place for you! If you enjoy exploring food and tasting wines just as much as discovering new cultures and landscapes, then search no more, you've landed amongst your own. Short on time and tight budget? Worry not, VISITGastrOH!'s got you covered.
The full-package tourism experience
Let's be honest. There are really not that many places out there where you can enjoy fantastic food, delicious drinks and heart-warming people without breaking the piggy bank or spending more time on the road than actually enjoying the destination.
We are always taught that we can't have it all. Yet, those who say so do not know the power of collaboration. Union makes the strength, that's the Belgian lemma, right? The union of territories, of flavours, of our senses, it's what creates this wonderful variegated patchwork of experiences that VISITGastrOH! has to offer.
Let me take you along for the ride through a land of sensory thrills, where people are working together across cultures and languages to bring you the best of their enogastronomic traditions. Ready?
5 territories, 1 unique destination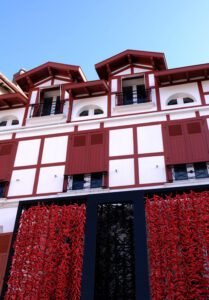 Where am I taking you? On a fantastic road trip through mountains, deserts, enchanted forests and beaches, all within a short drive across Spain and France.
Let's first land in the Spanish Basque Country with its eerie landscapes spotted with sweet lambs running through the mist. A few minutes' drive and here we are, in the French Pays Basque, following in the steps of kings and queens slurping on their first foamy hot chocolate. A few more kilometers and we'll find ourselves climbing the Pyrenees in Béarn, feasting on cheese and sweet wine. And here we are, already in Navarra, admiring those breathtaking panoramas that look like taken from a movie. You sure have heard of La Rioja from their award-winning wines, should we go have a tasting?
These 5 territories have so much to offer it's hard to believe. Let me just try to give you a quick taste.
Delicious, surprising, sustainable gastronomy
There is the physical journey, from one place to the other, and then there's the sensorial journey, from one memory to the next. Flavours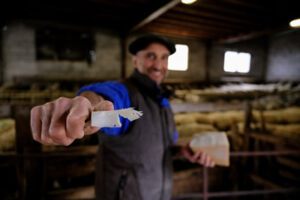 , smells, textures… our senses have the capacity to make us rediscover our roots – even the ones we never knew we had. Isn't that what gastronomy is all about? Thousands of years of tradition coming together; years after years of caring for the land and its being in order to produce the very best ingredients.
Listen to me going all poetic… I can't help it, the emotions! But you're right: less words, more actions! Follow the
ecogastronomy route
for a deep dive into the land's approach to sustainability.
Everywhere you go throughout the 5 territories of VISITGastr.OH! you will see that same preoccupation to do things right, using ancestral artisanal processes and respectful techniques. It's no surprise then that here you'll find an astonishing amount of DOP, IG and other certified products. From wines to cheese, from fruit varieties to animal races, this land offers uniqueness at every corner… just follow the
Denomination of Origin Route
to sip and bite your way through all of them.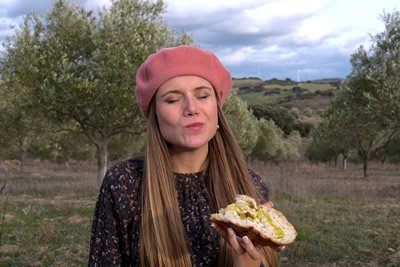 Among these award-winning products, nobody can miss out on those many silky wines and creamy cheeses that just go soooo well together. The
Wine Destination
and
Cheese Destination
were made for the most purist foodies. Now if all that wine has put you in the spiritual mood, the
flavours of the Camino de Santiago route
won't disappoint.
Honestly, I could spend the whole day here telling you about all the food and beverages this land has to offer, but after all these amazing tastings, I'm getting a bit full and I feel like I need a little digestive stroll, don't you?
VISITGastrOH

!: food and tourism, indoor and outdoor!

If, like me, you don't know how to make a choice, you will be freed from a burden. Well yes, why choose between food and adventure when you can have it all?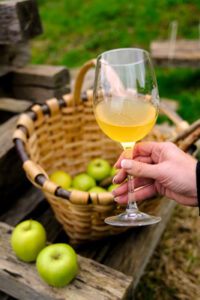 A horse ride through the winery is just the perfect start of the day, wouldn't you say? Prefer to get some perspective? Fly above the vines and valleys in a hot air balloon. Follow with a trekking through the olive trees or a cheese-making workshop in the hills. A little slide down the slope in winter or a boat excursion on the Atlantic in Summer? And what better end to your day than a night stroll through the animated streets of Logroño, Pamplona or Donosti, just to mention a few.
A little something for the adrenaline junkies
You get a knack out of adrenaline… tired of the typical bungee jumping? What about running with the bulls for a change? In July,
San Fermines is ready to give you the biggest thrill of your life
.
Dive into the local culture
History lovers, this one's for you! If you're more into exploring local culture and historical monuments, here are some must-sees.
Take a deep breath of fresh air
Would you like to get some quiet time? Be it summer or winter, here you will always find a perfect place to get away from the city life. So take a deep breath of fresh air and discover the most beautiful spots in each territory.
All year long, the options are endless and every single time you can count on the locals to make them unforgettable!
From restless children to happy retirees, something for everyone
I have to admit, traveling is good, but the company is what makes it great! So, for me, the best part about VISITGastr.OH! is that you can literally choose from a thousand different experiences to make it as adventurous or as romantic as YOU want!
Parents, I see you! Already booking your trip and looking for a babysitter, huh? Stop everything and take your children with you! "But wine and gastronomy is not for kids!" Let me prove you wrong with my article on the top 10 activities to do as a family.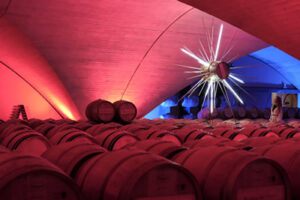 Now, if you really want to ditch the kids, work, dog, or whatever responsibility you have in your life to enjoy a romantic getaway… I don't blame you! Who would say no to an avant-garde Michelin star meal on their anniversary? Or a couple photoshoot at one of our breathtaking wineries designed by world-famous architects? Not me, I tell you!
Check out my
selection of romantic plans
and
short trips
for all generations of lovebirds out there.
But if you want to ditch even the boo for a good ol' time with the crew, here are some tips on
awesome things to do with your besties
.
Alright, I hope I left you craving for more and anxious to learn about that magical place on earth where in just a few days you can cross linguistic, cultural and gastronomic borders, while still being so welcomed that you feel right at home…
On my end, I'm looking forward to share more of the many reasons why I believe VISITGastr.OH! should be on your next-place-to-visit list.
See you soon!