Organising a romantic trip is like opening a Pandora box of ambitious expectations, but at the end you often find yourself just relaxing by the beach. Sounds familiar?
To avoid getting stuck in a romantic routine and spice up your trip, try adding a touch of culinary originality to your couple's travels. Sure, we'll never get tired of a candlelit dinner in a starred restaurant on the waterfront. But why not go a little overboard for once? I'm talking about flying over vineyards, spending a night of love in the trees, or even just testing wine…but in a whole new way!
So here's my list of favourite romantic experiences that I personally enjoyed with my better half while touring VISITGastrOH!. Maybe you think it's too cheesy… well, cheesy's not always a bad thing. Trust me, you'll thank me later !
Rioja Alta Wine Route
Talking about cheesy… do you know what goes great with cheese? Wine of course!
La Rioja offers you a journey into a pure wine-growing area where it is possible to enjoy a wide range of activities: walking through the vineyards, discovering the breathtaking landscapes of the region or even tasting the best wines of the area.
From Logroño, take a car and drive 40 minutes through colourful valleys and enchanting forests till you reach the Rioja Alta Wine Route, a selection of wineries, hotels, restaurants, museums and other locations all dedicated to make your tastebuds fall in love with the silky La Rioja wines.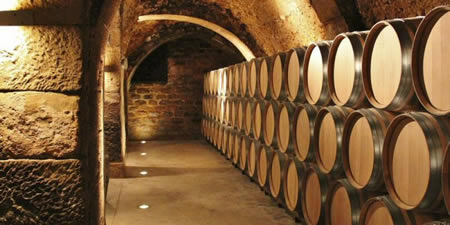 You'll love being able to mix your romantic getaway with exploring a destination full of history, know-how and a strong cultural heritage. By day, attend wine tasting courses in the most beautiful cellars of the region or take a walk along the vineyards. At night, enjoy a romantic dinner in a typical local restaurant.  Are you celebrating a special occasion? Why not give it the sparkle of a MICHELIN star 5-course meal?
Vinotherapy
Need help digesting after such a special meal? Head over to the Spa at the Marqués de Riscal winery. A spa in a winery, you say? Yes, what better than enjoying a glass of bubbles, and learning all about wine and grapes, while soaking in warm thermal waters.
Located just 25 minutes from Logroño by car, the Marqués de Riscal winery offers a Caudalie spa – vinotherapy treatment and other massages featuring products containing the virtues of the vine and the grape. What a dream, isn't it?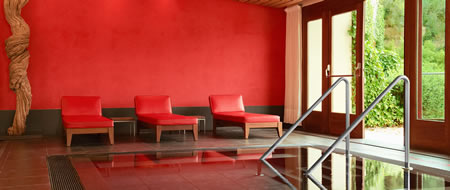 You thought this was all? Nope! You also have access to a complex with a heated swimming pool, Jacuzzi, hammock, gym and barrel bath. Whether you come for half a day, two days or even six, you are bound to have a more than soothing time.
Now if you're done being pampered, just step out and enjoy a splendid view of the Marqués de Riscal estate and its stunning architectural building by famous architect Frank Gehry.
The rail-trails of Navarre by bike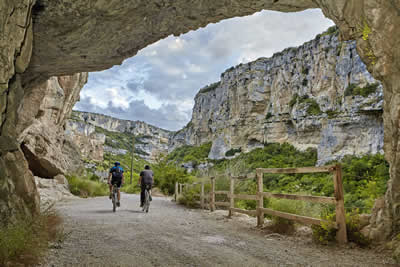 If you are a bit sporty (or not) and want to escape to the most beautiful landscapes of Navarre with your other half, come and cycle on the greenways of the region.
What more could you ask for than a great ride with several paths, breathtaking scenery and the person you love?
Choose the Irati greenway to discover the Lumbier canyon natural park, walk along the high mountains on the Plazaloa path or admire the irrigated crops of Tarazonica.
The routes are all of varying length and allow anyone who wishes to do so to fully enjoy the natural environment of Navarre, but let's not kid ourselves and go straight to the romantic Plans for Two that will make you fall in love with each other all over again.
balloon flight over the Nervion Spring
No matter the time of year, as long as the sun is shining, this is the ultimate romantic activity coupled with a bit of thrills. It will allow you to get away from it all and be alone to enjoy a unique moment.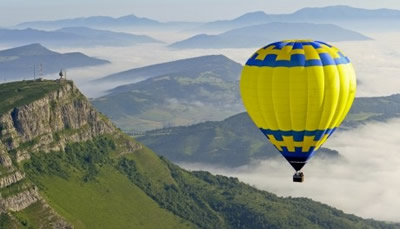 Go to Euskadi, one of Spain's most popular destinations, to enjoy one of the most impressive natural spectacles in the region… from above!
This balloon flight is included in the Txakoli route, a typical white wine of the Spanish Basque Country.
During four hours you will fly over the Alaya valley and enjoy a magnificent view of the Nervion jump or the Pico del Fraile.
During the week, you might have to share your romantic ride as the minimum number of participants is set to five but don't worry, you can have your exclusive experience in all intimacy on weekends and holidays.
Thalasso stay in Biarritz
Come and enjoy the most beautiful thalasso and spa hotels in Biarritz and enjoy a relaxing stay by the sea. Between treatments and wellness sessions in luxury hotels, believe me you and your lover will never want to leave .
Choose between the Radisson hotel and its Blu spa with massages with hot and perfumed oils, the Biarritz hotel with its Thalasso on the beach or the five-star Sofitel and its complete treatment course accompanied by music therapy and a head massage.
No, you're not dreaming, this activity is a lover's paradise and it would be a shame to miss it !
You can also go to the nearby seaside resorts to enjoy a romantic and relaxing stay.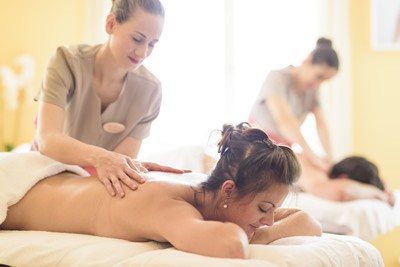 @ Spa Impérial, Biarritz
An excursion to the Charnegou country
You know, you don't have to go far to enjoy unforgettable moments. To enjoy a corny but authentic romantic stay in the small villages of the Basque country, go to the Charnegou country 20 minutes from Bayonne.
Let yourself be tempted by a gastronomic and discovery stay in slow food mode where the first thing you will be told is "take your time".
To make the most of it, you can stay in the "Slow Toki" (i.e. "place where you take your time"), an old Basque farmhouse that has been completely renovated and turned into a guest house.
This holiday is perfect for those looking for a quiet place to visit, cycle, buy local produce, learn about the culture of the area or admire the cultural and historical heritage.
Sleep in a treehouse
Sometimes, to disconnect from the tensions and stress of life, it's necessary to go back in time, all the way to childhood. Free your mind, and let your feelings out, to spend true quality time with your beloved.
I am talking all the way, Peter Pan-style, magical tree house – BUT with a whole romantic twist.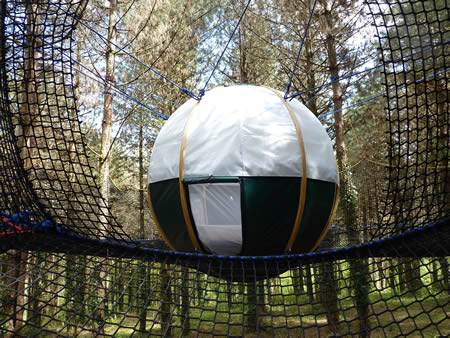 Book your stay at "Les nids du Béarn" for one or several nights in the trees to blend into the landscape and enjoy the atmosphere of the forest.
Climb between 4 and 8 metres to spend the most unusual (and comfortable) night of your life.
Drive 45 minutes from Pau to enjoy a true cocoon perched in nature and a romantic experience lulled by birdsong when you wake up.
If you don't feel like an adventurer but still want to try it, you can also choose to sleep in a hut between 6 and 7 metres high.
For the food, the hosts propose a basket of local products if you want to discover all the aspects of the Bearn culture but you can also bring your own meal or go and try a typical restaurant for a romantic dinner.
Dear lovebirds, don't wait to revive the spark and bring some serious romance to your weekend getaway! Love is precious and needs nurturing, always!
If you need more ideas and plans, check out  VISITGastrOH!'s Instagram, Facebook or Twitter for tons of inspiration.
See you soon!