If you have landed on this article, you are probably as big of a foodie as I am. If so, get ready for 6 minutes of mouth-watering reading. I have to confess from the getgo that making a selection of just 10 dishes from a land that has more gastronomic treasures than there are stars in the sky feels very much like committing sacrilege. So here's a tip for you: don't take my word for it, come and make your own list!
French vs spanish gastronomy, a fair fight
I guess for a lot of us food lovers, France and Spain are synonymous with food, food and more FOOD! You might have your preferences, but at the end of the day I say: why choose?
VISITGastrOH! is the first touristic and gastronomic destination that brings together the best of both worlds. Here you can start your day with fluffy croissants and finish it with a buffet of pintxos (small food bites – see right picture).
You've probably already heard of Spanish tapas and tortillas as much as you've heard of croissants and amuse-bouches…. names that have crossed oceans and gained a well-deserved fame. Yet there are so many more delicacies that you've probably never heard of, yet would make you come back from you. You know, those dishes that make you travel from the first bite. The ones you can't find anywhere else and can't wait to try again.
That's why I can honestly say that VISITGastrOH! is the gastronomic paradise you've always dreamed of. Hop on, the journey is starting!
Manitas de cordero a la riojana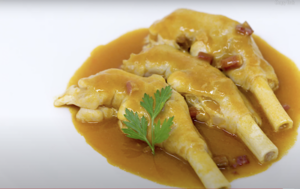 In France and Spain, nothing is wasted and this dish proves it. The name of this specialty is not an expression, you can eat real lamb's feet but rest assured, it is absolutely delicious.
This unusual lamb-based dish comes from La Rioja, a region also renowned for its wine. It comes to no surprise then that this recipe should include white wine, alongside other spices that gives this dish a warm cosy feel.
Add tomato sauce, chorizo, and a good amount of garlic and you've got yourself a typical Spanish dish: simple but heart-warming. full of  flavours and quirkiness.
Don't leave La Rioja without trying it…but if you want to know the secret of preparing this unusual dish, it is also possible!
Bacalao a la Riojana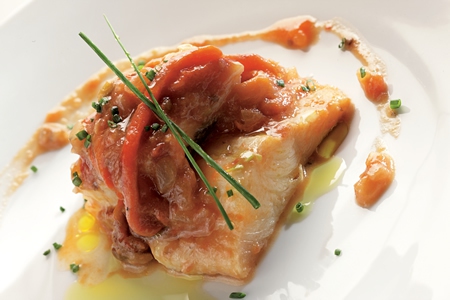 If you are looking for something simpler and more common, I suggest the Bacalao a la Riojana. For those who don't speak Spanish, bacalao is simply cod and this way to prepare it will seduce you, I'm sure !
The recipe is simple, take some cod and fry it in a little olive oil and serve it with a delicious sauce of peppers and tomatoes that will give it its famous red colour.
I know what you're going to say, "How can such an easy-to-make dish be a local staple?". Well, simply because there's a whole story behind it.
In the Middle Ages, meat consumption was forbidden on Fridays, so the monks decided to replace it with desalted cod. This fish was one of the few that could be eaten because it was so well preserved during transport.
The bacalao a la Riojana is a mix of flavour, artistry and tradition…so come and taste this typical dish or make it yourself with this recipe … you decide!
Pimiento piquillo de Lodosa
Ladies and Gentlemen, let's head over to Navarra where you will discover beautiful landscapes but also dishes to die for!
The Pimiento Piquillo is a certified product with a Denomination of Origin and is also called "the red gold of Navarra" because of its bright colour. It's a very tasty product with a firm exterior and tender interior, making it a perfect cooking ingredient.

Here I'm not talking about a dish per se but about a fabulous ingredient so versatile that it can be cooked in a thousand ways: piquillos stuffed with white tuna, anchovies, goat cheese…but also piquillos a la plancha, in the oven or grinded into a hot and spicy sauce.
One way to cook them that's got my heart melting is with potatoes and Serrano ham in the typical "almuercico navarro" way. Discover this delicate dish with chef Nicolás from Restaurante Tubal.
Chilindron lamb
Meat lovers prepare your taste buds, I have something perfect for you !
One of the other specialties of Navarra is the Chilindron lamb, and this time we're going traditional with a juicy lamb leg.
In this fairly complete dish, the meat is accompanied by a tomato and vegetable sauce, garlic and peppers with a side of fried potatoes.
If you try it during your stay, be prepared to be overwhelmed and discover a mix of flavours that will make you want to stay a few days longer. If you can't wait… you can follow the recipe and make it yourself.
Gilda
Gastronomy doesn't need to be complex to be delicious! Proof is in the hundreds of fabulous pinchos (or pintxos) that the region is famous for.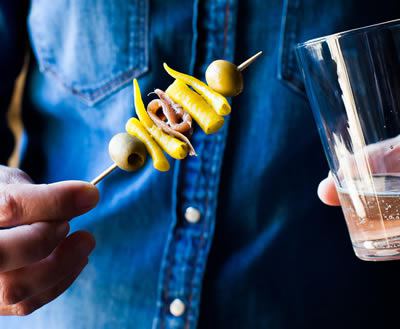 Flash quiz! Do you know what is the difference between pinchos and pintxos? None! One is written in Spanish and the other in Basque language.
This particular pintxo from the Spanish Basque Country is particular because of its origins. The "Gilda".
is inspired by the main character of a 1940s film with the fiery Rita Hayworth. The dark anchovy fillets wrapped around pickled Ibarra chilli peppers are reminiscent of the long, black gloves she sensually peels off while singing "Put the blame on Mame".
Two green olives complete the skewer on both sides to create a strong acidic flavour that you can't resist.
I'll grant you that this one is very simple to make, but pair it with local apple cider and the great atmosphere of a typical bar crowded with loud and passionate basque people and you've got yourself the perfect combo.
Marmitako
This famous fisherman's recipe is a tuna stew, again with potatoes, tomatoes, garlic and other tasty ingredients.
Marmitako simply means "the pot" in Basque. It is so called because the pot was one of the only utensils that fishermen could take on their boats.
It is mainly eaten in the summer while enjoying the sun and sea air, but you will enjoy it just as much if you decide to eat it in the winter.
If you want to feel like a fisherman at the time, eat it hot so that you can fully enjoy this Basque specialty.
But if you want to live the experience to the fullest, you can also make it yourself thanks to this recipe !
Basque cake
I hope you have your identity papers with you because we are now moving to the French side. Just kidding, this is the EU… you don't need them!
When in France, I go straight for the desserts. They are so good I just can't help myself. An absolute MUST in the French Basque Country is the Gâteau Basque or "etxeko bixkotxa" in the local language.
With a crusty outside and soft inside, you will find them filled with almond cream, custard or black cherry jam. If you're not sure which flavour to choose, it's best to try them all.
was passed down from generation to generation for centuries till it became the staple dessert of the land, to be found in just about any bakery from Hendaye to Bayonne. I hope you make the most of this traditional, homemade dessert every time you have the chance to eat it!
Axoa
Axoa is the symbol of Basque country. You can find it everywhere, in restaurants, at fairs and you can even make it yourself if you dare.
I will tell you a secret that you must promise not to repeat. The ingredient that makes this dish so special is the touch of Espelette pepper that is added at the end.
Theis bright red pepper comes from the village of Espelette which you can visit on your trip here. Or you can find it in those cute local stores and street markets.
Add minced veal shoulder garlic, onion and you've got yourself a recipe for every season and occasion.
The poule au pot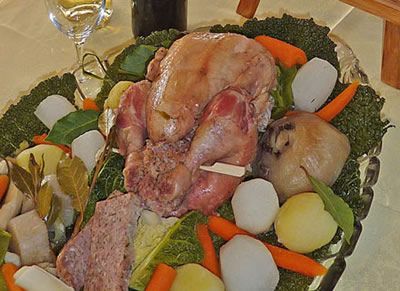 We are coming to the end of our culinary journey but don't worry, you won't be disappointed by these last specialties.
This recipe is made of chicken cooked in broth in a casserole dish with carrots, turnips, leeks, onions and other vegetables that brings flavour to this french meal.
Here we're going back in history because this famous dish has been appointed as national dish by the French King Henri IV during his reign. By that, he expressed his wish that everyone should be able to "have a chicken in their pot" and therefore eat their fill.
If you want to go back in time and understand better why the king chose this dish as the national one, you should definitely come and taste it.
But you can also try to follow the old traditions and cook it yourself thanks to this recipe !
The Garbure
Last but not least, the garbure is a traditional soup from the South West of France and is part of the Béarnaise culture in its own right.
Made with cabbage and large pieces of vegetables, pork and duck confit are then added. Not light, but truly yummy!
Some say the real garbure is in the Landes, but the one I've tried in Pau was worth a medal. Talking about medals… there is a world championship of Garbure! So if you have the soul of a competitor, learn the recipe, take your pot with you and go to Oloron-Sainte-Marie to try out your skills!
My dear fellow food lovers, it is now time for me to brighten your hearts one last time!
What I have shared with you, all these dishes, these stories, these flavours…this is only a small part of what you will be able to taste and experience on your journey here!
See you soon!