There are days when you want nothing more than to escape the chaos of the world and its people to reconnect with nature and with yourself in the process. Well, today feels like one of those days so let me take you on a journey through some of the most enchanting, spectacular and unexpected places in the Land of Sensory Thrills, VISITGastrOH!.
The natural park of Sierra Cebollera
Let's start soft and easy with a walk through the Sierra Cebollera, a chain of ancient Iberic mountains rounded by time and covered in dense forests. This protected area of La Rioja is one of the best preserved forest areas where many different types of trees create a variegated and colourful patchwork of leaves. Autumn is the best time to admire the flamboyant colours of the pines, beeches, birches and numerous other native trees.
This park is completely representative of nature in its purest state with an admirable natural and geological wealth which allow for a remarkably well preserved fauna and flora. Many animal species live in this large forest such as squirrels, wild boars, foxes, deer. It is also considered an extremely important location for the passage of migratory birds.
Resource yourself at the Puente Ra waterfalls
In the Sierra Cebolla Natural Park hide the Arroyo de Puente Ra waterfalls, a must-see if you are visiting this area. The 2-hour circular trekking trail will take you from waterfall to waterfall until you cross the Puente Ra bridge.
Whether it's the colours of autumn, the flowers of spring or the rays of sunshine through the branches of the trees in summer, you can escape and take your mind off things by enjoying the soothing sound of this waterfall, lost in the middle of the forest.
A trip to the moon at the Bardenas Reales
Just an hour from Pamplona or Logroño, this desert in the heart of Navarre is the perfect way to escape to another world for a day or if you're a photography enthusiast, the perfect spot for a shoot. This place is so outstanding and unusual that it has been the setting of TV shows such as Game of Thrones and music clips such as this one from French rapper Mwaka Moon which beautifully display the lunar-like landscape.
If you were in Pamplona for the San Fermines celebrations or in Logroño for a balloon ride over the vineyards, you can come here to recharge your batteries and catch a sight of the unusual fauna and flora. This 42,000 hectare desert has an entire ecosystem that is important to preserve in order to maintain this almost lunar-like setting. Eagles, vultures, owls, bustards, foxes, wildcats, genets, amphibians and reptiles can be found in and around its scrubland, salt marshes and esparto grass.
Whether you go there for a simple visit or to ride a bike, buggy or segway, the Bardenas Reales Natural Park and Biosphere Reserve will make you feel like you're in a completely different country – if not planet.
A walk by the crystal-clear waters of the Urederra spring
Fom South North and from West to East, Navarre never stops to amaze! So let's head over 45 minutes West of Pamplona for a drastic change of scenery, from the sandy setting of the Bardenas Reales to the turquoise blue waters of the Uruderra spring nature reserve.
I have no doubt that the moment you step into this unsuspected oasis, you will understand why the locals named it Urederra – Beautiful Waters in Euskara. This place will warm your heart with its ever-changing beauty that changes colours and shapes with every season. In order to preserve its untouched and timeless purity, only 500 people per day can access the site, so remember to make a reservation before you go.
Gaztelugatxe: a fantastical road to the middle of the Atlantic Ocean
Thanks to its extremely variegated landscapes and history, Spain has become the set for most of Games of Thrones' locations. After the Dothraki Sea, I am not taking you to Dragonstone — the haunting ancestral home of Daenerys Targaryen, the Mother of Dragons. Don't worry if you are not into the show, this place is fascinating either way.
In real life, the place is called hermitage of San Juan de Gaztelugatxe and it is a fantastical ancient 10th century stone footbridge winding up to a tiny hermitage chapel on the Bay of Biscay, off the Basque coast in Euskadi, to the north of Bilbao
Originally built by the Knights Templar, the hermitage has a calamitous history. It's been burnt and destroyed several times, by nature, pirates, plunderers, and Sir Francis Drake among others. Yet, each time it was destroyed, it was tirelessly rebuilt, providing it with a magic aura of eternality.
This is truly one place that does not need a sunny day to shine. Even on a stormy afternoon, you will enjoy its fantastical atmosphere and appreciate the view, overlooking the ocean. Simply put, you'll feel like you're in a historical movie!
Geopark of the Basque Coast
Now, if you are a fan of unusual landscapes and long walks in nature, do not – I repeat DO NOT! – leave the Basque Country without doing the Route of the Flysch in the Geoparkea of the Basque coast.
Don't feel bad if you don't know what Flysch is. I also had no idea until I visited the park. Turns out it's a 60 million year-old formation of layers of sedimentary rock. The flysch deposits acquire their greatest relevance on the Itzurun beach in Zumaia. The verticalized layers of this spectacular geological phenomenon help to understand the extinction of dinosaurs, and even today, many geologists from across the world seek answers to the behaviour of our planet in this huge book of nature. Bet you won't see that every day!
Declared a UNESCO's global geopark in 2015, Geoparkea covers 90 square kilometres around Deba, Zumaia and Mutriku. Imagine yourself on a beach surrounded by cliffs and caves with nothing around you but ocean and rock. An absolute must-see for any geology-buffs visiting the area!
A historical train ride to admire The Rhune from the top
Ever wanted to see what life was like from above? Take the Rhune train in the French Basque Country and make way for a breathtaking panorama.
The historical train runs every 40 minutes from mid-April to early September and offers an incredible panorama over the La Rhune national heritage site. This trip to the top will give you an absolutely splendid view of the Pyrenees, the Landes coast and the Atlantic Ocean. You will also get to spot the "Pottok", an adorable local breed of rural ponies.
At the summit, a digital circuit awaits you so you can learn everything about the mountain's treasures.
This experience is accessible to everyone, including people with disabilities, making it the perfect plan for a group escape and a dramatic change of scenery.
Ayous Lake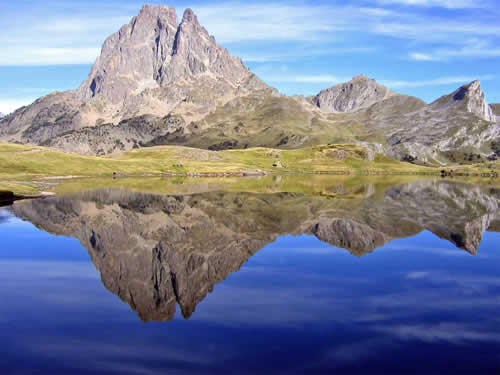 Last but certainly not least, let me take you to the Ayous lakes, still in the Béarn, high up in the Pyrenées.
This place is made up of three lakes: Lake Gentau, Lake Miey and Lake Roumassot. They are located below the Ayous peak, giving way to a superb, almost idyllic landscape when you arrive at your destination. The ideal place for a well-deserved rest and picnic after a hike or just for a camping trip.
But if you feel like going a bit further, then go up the Pic du Midi d'Ossau which overlooks the lakes surrounded by large expanses of grass and plain… a picture-perfect setting that will mark the perfect ending to a perfect trip away from it all.