I ❤️ cheese! Soft, creamy, stinky, doesn't matter. I love cheese in all its shapes and colours. Well, lucky me: France just happens to be the second largest producer of cheese in the world, with 46 varieties of AOP cheese and over 400 different cheese varieties listed Some say that the actual number of cheeses made in France go well into the thousands – many of which are made artisanally by individual producers and impossible to find in stores.
Spain on the other hand produces over 100 different listed types of cheese, often characterised by strong flavours with a hint of spice.
Today I am taking you along the Cheese Destination, a route from La Rioja in Spain to Béarn in France that will lull you along dream-like hilly landscapes in the discovery of the ancient way of the cheesemaking shepherds. From the barns to the ageing caves, you will discover the love and dedication that goes into producing these respected formages.
Each of the territories that compose VISITGastrOH! is home to many unique cheeses, but this route brings you the best of the best, a selection of certified cheeses which you will not find anywhere else.
.D.O.P Camerano Cheese: a well-kept secret
What better way to start our journey than with Queso Camerano, a cheese with nearly 700 years of history!
The bars of Logroño, the capital of La Rioja, are not afraid to feature this cheese in their pinchos and tapas. In the Calle Laurel, you will find thousands of people sharing delicious local specialties from morros (pork cheek) to patatas con chorizo (potato, sausage and red pepper stew), but I am sure that any of them would tell you that there is nothing better than a slice of Queso Camerano with a full glass of La Rioja wine.
Fresh, soft, semi-cured and cured, all variations of this cheese are made using milk from goats fed on natural vegetation and products from theSierra de Cameros. This semi hard cheese with a bit of bite and a hint of sweetness holds a secret: unlike other hard and semi hard cheeses, its bark is natural and 100% edible.
The origin of this cheese is very, very old. Gonzalo de Berceo named this goat cheese in the 13th century, at a time when it was up to monks hidden away in monasteries to preserve the unique camerano cheese recipe and production process.
It was in the 60s when the Lácteos Martínez cheese factory was finally able to recover the recipe that the monks had so zealously guarded for centuries, thus expanding its production and allowing its recognition by the world as a unique and valuable product. On top of receiving the DOP certification, it also received a double medal in the 2019 World Cheese Awards. Not bad, wouldn't you say?
Nowadays, The Cameros Lácteos Martínez cheese factory remains the only one to make this cheese. offers a tour in Haro where you can learn about the origins of the product and how it's made, as well as enjoy a tasting of this truly exclusive cheese.
Whether paired with a classy wine or an exquisite ham, there's no question why this cheese remains one of the most loved products of La Rioja.
DOP Idiazabal Cheese from the misty hills of Euskadi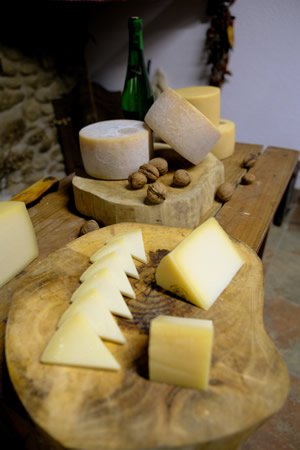 Euskadi is widely known for its intense Idiazabal cheese made from the milk of two different breeds of sheep: the Latxa and Carranzanas races. These particular breeds give exceptionally rich, fatty milk, resulting in a buttery mouth-feel and an intriguing gently smoked character.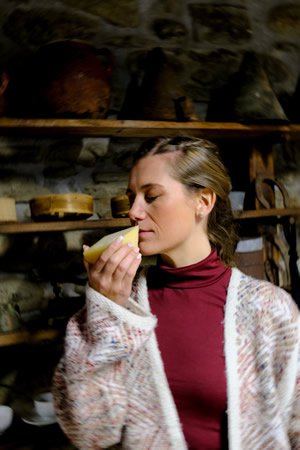 For more than eight thousand years, shepherds and sheep have followed the old routes in agreement with the seasons. In winter, they keep to the valleys but in spring, summer and autumn, they take their flock all the way up the high altitude pastures in order to take advantage of the best nature has to offer and create a product as genuine as the Idiazabal cheese.
It is this respect of traditions and artisanal making process that allowed the Idiazabal Cheese to receive the Protected Designation of Origin, a certification that guarantees consumers the origin and quality of authentic Idiazabal cheese and protects its shepherds.
While you're in this region, I recommend a visit to the cheese tasting and Interpretation Centre at the heart of the Idiazabal village. From there, you can check out the various authentic family-run Idiazabal Cheese farms. If you go early in the morning, you will be able to witness the milking process, learn about shepherding, and visit the cheese room and storage facilities. I am sure the shepherds will be more than happy to share a secret or two with you over some cided and a platter of their delicious signature cheeses.
Don't forget to cuddle the baby sheep for a complete three-in-one kind of trip: beautiful landscapes, delicious cheese, and heart-warming memories!
D.O. Roncal: all the history of Navarre in one cheese
Navarre is a wonderful setting to explore your passion for cheese.  The Roncal cheese holds the D.O. certification – denomination of origin, guaranteeing that it is only produced in the municipalities of the Roncal Valley with the ancestral and traditional techniques specific to the area.
It is an exceptional and exquisite cheese still made today from raw sheep milk according to a centuries-old traditional process upheld by the shepherds of Roncal.
The Roncal Valley, at the feet of the Pyrenees, is one of the few landscapes that can still offer the traveller the beauty of untouched nature. Indeed, the valley has been dedicated to grazing for centuries. Already in the Middle Ages, with the arrival of the first snows, a transhumance ritual began that is still maintained today. The transhumance means that the shepherds leave the valley in the winter and travel with their flock all the way to the warm lands of the Bardenas Reales, in search of greener pastures.
Smooth but with tons of character, the Roncal cheese can add a bit of zest to any meal, but it can also become the star of the dish! Here's for you a recipe I enjoy very much, easy to make, perfect to share and enjoy as an appetiser.
Roncal cheese croquettes
Ingredients: 
250 g Roncal cheese
800 g of potatoes
50 g of butter
4 Eggs
Bread crumbs
Salt
Pepper
Recipe: 
Boil the potatoes with water and salt. Once the potatoes are cooked, peel
and mash them with a fork until you obtain a homogeneous puree. Mix the mashed potatoes with the Roncal cheese previously grated, the yolk of three eggs and the butter.
Beat an egg on a plate and put the breadcrumbs in a different dish.
Form small balls, dip them in the beaten egg, and sprinkle them with breadcrumbs.
Fry the croquettes in a pan filled with very hot oil till they are golden, and voilà!
More recipes
Now, one of the many reasons I love cheese is that it can be prepared in a thousand ways. Cold, grilled, melted, in a main course or as a dessert, the possibilities are endless. So if you are up for a bit more of a challenge then my croquettes, check out these recipes by Chefs Enrique and Paula Martínez from Hotel Restaurante Los Tres Reyes. They have truly mastered the art of incorporating their local cheese into new and surprising recipes.
Learn with them how to make their cocktail of Roncal cheese tartare and a dessert of Idiazabal cheese in jam, accompanied with Idiazabal cheese ice cream. Simply WOW!
AOP Ossau-Iraty: tenderness all around
Ossau-Iraty is a traditional semi-hard sheep's milk cheese from the French provinces of Pays Basque and Béarn. This cheese is as tender as the adorable sheep from which milk it is made. As soft and pleasant as the peaceful hills in which they graze. So tender, in fact, that it is considered the best cheese in the world.
No no, I am not exaggerating! In fact, many varieties of the Ossau-Iraty have been consecrated with the World Cheese Awards, repeatedly deeming it "best cheese in the world", all categories confunded. The Fromagerie Agour won the award in 2006 and 2011, and in 2018 it's the fromagerie de Mauléon with its Esquirrou Ossau-Iraty that snatched the title.
Since 1980, it has been recognized with the Protected Designation of Origin (AOP). The first AOP cheese in France has many taste surprises in store for you, depending on the length of its ripening period, it can evolve from delicate to tangy, presenting a wide range of lactic aromas with hints of hazelnut, caramel and grassy-sweet flavours.
While it pairs perfectly with a Bordeaux, I recommend you take advantage of being in the area to enjoy it either with the local Irouléguy wine.
If you have some time left on your trip, why not go visit the shepherds in Larun and have some fun feeding these sweet beasts? If you don't collapse from cuteness overload first!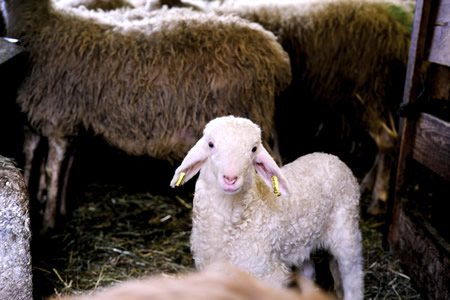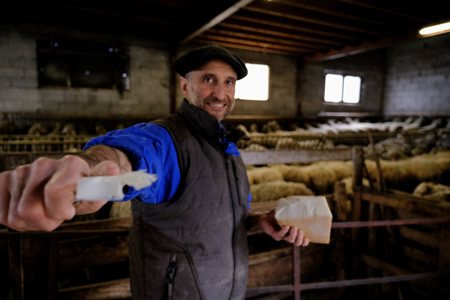 Fromage d'estive in Béarn: a crowd pleaser full of surprises
Last stop on your journey through the Cheese Route and I'm taking you deep into the Pyrenees for one of the most iconic and adored cheese from France: the Fromage d'Estive.
What makes this cheese so special is its huge range of aromas that vary with the duration of its maturing period. Aromas of flowers, thyme, gentian, liquorice, complemented by dried fruits such as walnuts and hazelnuts. These flavours are more or less marked depending on the grazing area and the know-how of the shepherd. ​​They can be dry in the mouth, very fragrant, aromatic, or even delicately distinctive, with hints of hazelnut.
Let's just say that the Fromage d'Estive is a crowd pleaser that never gets boring!
One of the particularities of this cheese is that it is produced in collectively managed pastoral areas, in the high mountains of Béarn. The manufacturing of cheese is done exclusively in summer, from June to September, during transhumance, following an ancestral know-how, a peculiar method of ageing refined through times and generations.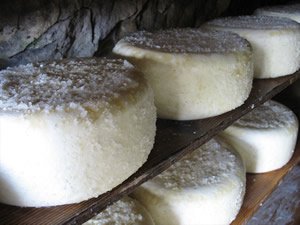 Here, all summer, cheese is made daily. The sheep are milked by hand in the open air, the milk is curdled in a cauldron then shaped into a wheel by the expert hands of the shepherds. Once ready, they will be left to age in thick coats of salt throughout the summer, giving birth to round golden tommes rich in flavours.
The method is simple, the results are singular. After a long period of maturation, the cheese will reveal its many tastes. Whichever variety you choose, it will go marvellously paired with the local Madiran wine.
In order to visit the shepherds and see them at work, you will have to choose one of the 3 days of "Cabanes Ouvertes" (open cabins) between the end of July and beginning of August. During those days, you will be invited to accompany the herds to their pastures, visit their shepherds' cabin and watch cheese being made throughout the day.
I hope you enjoy VISITGastrOH!'s Cheese Destination and that you've got your tasting buds ready for a journey you won't forget. As far as I'm concerned, I'm already on my way!