I'm in a spiritual mood today.. Who else is with me?
Every good trip should include a bit of exploration of the local cultural heritage, won't you say? Especially when you are in an area so rich in history and architectural splendour!
The monasteries of Yuso and Suso
Let's start our cultural journey at the magnificent monasteries of Yuso and Suso, two UNESCO World Heritage Sites located in San Millan de la Cogolla in the Cardenas valley in the Rioja region.
What is so special about this place is that not only it's got two monasteries in one, but also two completely different phases of history. Indeed, the two buildings were not built at the same time. The monastery of Suso was built first, in the 6th century, upon the caves inhabited by the hermits of San Millan. The Yuso Monastery was established in the 11th century and was built to expand on Suso.
Both sites have gone through different eras, giving way to a certain architectural diversity. You can find a mixture of Romanesque, Baroque, Renaissance and Mozarabic styles that make the place unique!
In addition to this, it is possible to see magnificent paintings, manuscripts, sculptures and other artistic treasures from different periods in time. A true jewel waiting to be explored.
The Cathedral of Santa Maria de la Redonda
Another architectural jewel from the region of La Rioja is the Cathedral of Santa Maria de la Redonda, built in the 12th century but which underwent changes and additions until the 18th century.
Its unique facade with its towers called "the twins", its singular style and the fact that it has been classified as a property of cultural interest in Spain since 1931 make this monument a worthy stop on your trip.
Inside the cathedral it is possible to admire the architectural style of the Romanesque period and to see the three nerves of the monument. Its cultural richness is also enhanced by various works such as a crucifixion attributed to Michelangelo, gates with a large amount of forge work… Wooden, painted, sculpted, every detail is finely crafted and ornated throughout the cathedral.
The Royal Palace of Olite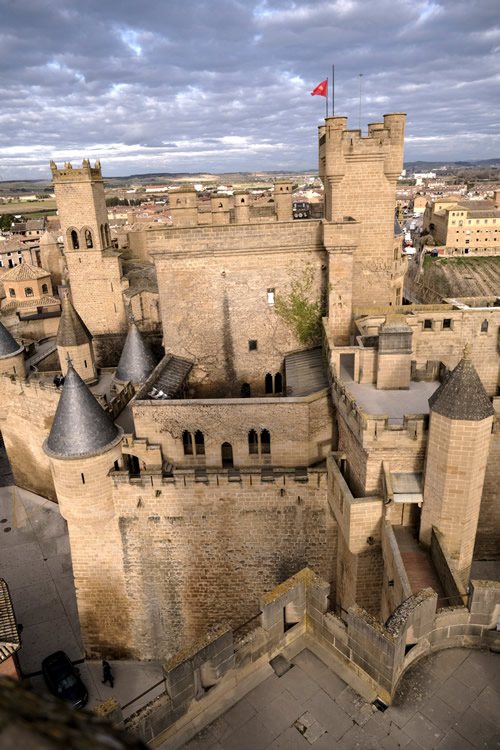 The town of Olite in Navarre is the perfect place to immerse yourself in a mediaeval and historical period, where the charm of the town is defined by its castle, the Royal Palace of Olite.
This town of about 3000 inhabitants is home to one of the most luxurious castles in Europe and has been a national monument since 1925.
It was built in the 16th century under Charles III and can be described as a monument mixing gothic architecture with inspirations from French castles (according to the will of the king).
The castle will never cease to amaze you with its royal chambers and their secrets, its towers, its gardens outside and inside the castle or with its ice well (it was once used to preserve food).
In addition to its castle, the town of Olite immerses itself every year in a mediaeval and traditional atmosphere during the month of August to relive this era in total immersion.
Follow the way of St James in Orreaga/Roncesvalles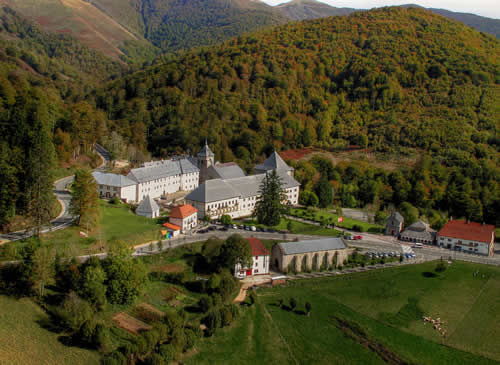 The Collegiate Church of Orreaga/Roncesvalles is one of the stages and meeting points (or starting point) of the Pilgrim's Way to Santiago de Compostela, a real key point for pilgrims.
As well as being a stop on a unique and emotional journey, it is also a place where you can take in the culture and landscapes.
Enjoy the gothic architecture and learn about the ancient battle scenes.
This village of twenty inhabitants is a haven of peace filled with history and mystery and it would be a shame to miss it.
If you go there you can also visit the church of Santa Maria, the silo of Charlemagne or the museum of Orregeara Roncesvalles with valuable historical objects.
Santa Catalina Botanical Garden
Let's continue our trip north towards Euskadi! Located 30 minutes by car from Vitoria-Gasteiz, the Santa Catalina Botanical Garden is a mixture of green nature, ancient remains and aromas from around the world.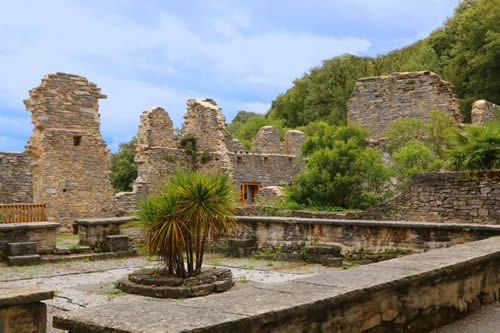 The garden also has more than 1,200 plant species, all with different needs, so the garden has different zones accessible to different plants
the remains of an 18th-19th century church, monastery and palace located in the middle of the botanical garden.
If you want to see something more colourful, the park also gives access to a butterfly greenhouse. The garden is also accessible at night to the astronomical park, which has been named the best in the world.
If you want to immerse yourself more in the heart of nature, this garden is the perfect place and a real mix of culture, nature and a must see.
The Caves of Isturitz and Oxocelhaya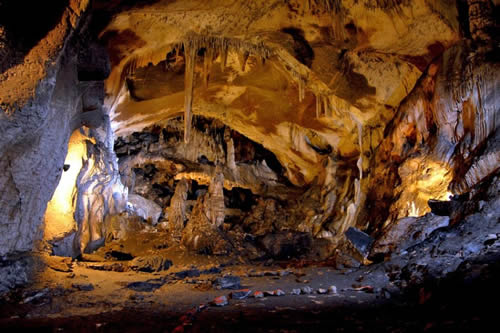 As the legend goes, most treasures are buried. This is the case of the extraordinary caves of Isturitz and Oxocelhaya, a parallel or timeless universe of prehistoric and geological wonders.
When these caves were discovered, many objects were found, such as engraved pebbles, flutes, and decorated bone blades, suggesting the people who lived there a long time ago.
Paintings, engravings and other kinds of rock art have been found on the walls of some caves.
It is possible to venture out with a guide but we recommend it only for people who are not claustrophobic or afraid of the depths. For more information on this marvel of the French Basque Country, check out my article on 10 experiences that will make you feel the thrill. (linkear a articulo 8)
The church of Saint-Girons
In the Bearn region, the church of Saint Girons is a must-see if you are passing through Monein or even Pau and Oloron Sainte Marie.
It has been classified as a historical monument since 1913 and you can understand why by appreciating its gothic style but especially its mythical oak frame of 50 metres long and 18 metres high.
If you want to discover all the secrets of this 15th century church, you can visit it with a guide who will surely be happy to show you around. He will probably tell you about its construction and its history, in particular the history of the cagots, people excluded from society at the time.
https://www.coeurdebearn.com/en/heritage/the-church-of-st-girons-and-its-timber-roof.html
History and panoramic views from the Moncade Castle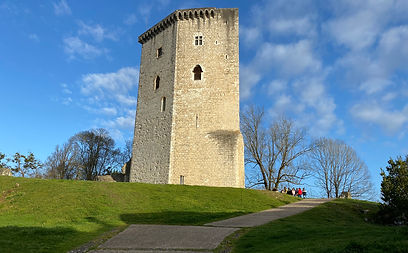 Ladies and Gentlemen, we have reached the last stop on our cultural journey: the Château de Moncade. This mediaeval castle located in Orthez (45 minutes from Pau) is a monument full of history.
Its large defensive system testifies of its eventful past. Since its construction, the castle has gone through various eras, from being a base of defence against armed troops with its famous masonry moat. It has also known the golden age of Fébus who made this place a court renowned throughout the West.
This monument was also used as a prison at one time and is now open to visitors and culture fans. It is possible to visit the castle with or without a guide, to climb to the top of the dungeon and have access to a panoramic view of Orthez and the Pyrenees.
This is it for today, good people! I hope you enjoyed the trip and learned a lot about the local cultural, geological, religious and military history. A bit of everything for every taste.
Talking about taste… I have a feeling you got hungry again after so much walking around! Don't worry: my next article will satisfy your appetite with my list of unforgettable and unmissable gastronomic experiences!