VISITGastrOH! is more than just a trip… it is an authentic, cultural and above all immersive experience.
If you're one of those people who needs to immerse yourself in a destination to enjoy it, you'll love what follows.
Basque cuisine from streets to stars
The Basque country is internationally renowned for its cuisine, from pintxos to high gastronomy by Michelin star chefs. The Basque Culinary Center in San Sebastian has won an international reputation as top culinary school where some of the greatest chefs have been formed.
Typical Basque dishes include meats and fish grilled over hot coals, marmitako and lamb stews, cod, Tolosa bean dishes, paprikas from Lekeitio, pintxos (Basque tapas), Idiazabal sheep's cheese, txakoli (sparkling white-wine), and Basque cider.
And of course the basquaise, a type of dish that often includes tomatoes and sweet or hot red peppers.
But the Basque culture is much more than food and everything about it is worth discovering. It is a land infused with traditions and folklore, full of mysteries and ancient crafts. From its language to its architecture, it will make you feel like nowhere else in the world.
So before your trip, take a few minutes to get acquainted and appreciate the richness of the land you are about to discover. Here are some pointers to help you get started on your journey!
What is Basque culture?
The basque language, Euskara
Ongi etorri – Welcome!
Language is the starting point of any culture and is one of the pillars of a territory's history. When it comes to Euskara, the language spoken in the basque territories, it also becomes one of the most interesting and mysterious aspects of the local culture.
Euskara holds the title of oldest living language in Western Europe and the only surviving language isolate in Europe. It is considered a true cultural treasure. There is a huge controversy over the origin of the language, some claiming it could even date back to prehistoric Europe. Overall, the current mainstream scientific view on the origin of the Basques and of their language is that early forms of Basque developed before the arrival of Indo-European languages in the area, that is Celtic and Romance languages in particular.
Throughout the second half of the 20th century and in particular during the Franco era in Spain, the public use of Basque was suppressed, with people fined for speaking it. Despite the repression, Euskara in its various dialectal variations is still spoken fluently by over 700,000 people that span over the French and Basque country, parts of Béarn and the North of Navarre.
The language is currently undergoing a revitalisation process and being taught in schools again. Many festivities and activities are now being organised on both Spanish and French sides to celebrate the Basque culture in all its forms. So why not learn a little Euskara before heading over here?
Basque dances and songs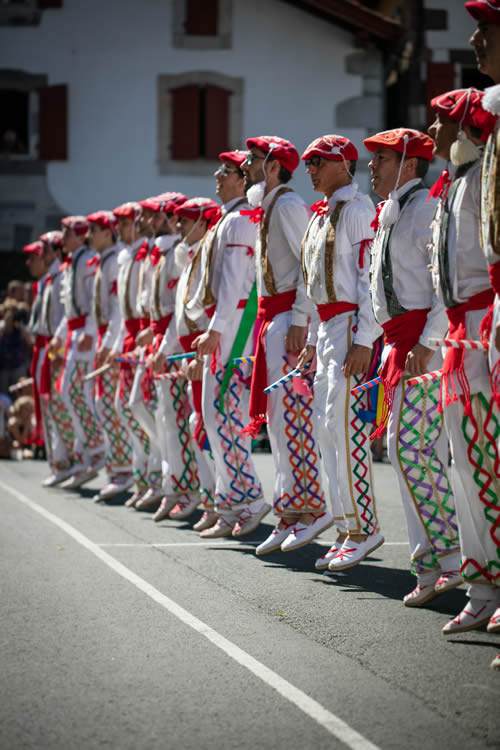 The Basque Country is also known for its rich folklore animated with songs, music and dances.
Traditional Basque songs are often composed of a choral, mostly all-males, sometimes mixed, singing in unison. For example, it is still common to see groups of "wandering bards" roaming the streets and singing folks songs.
But the music has not stopped evolving. giving way to the Basque opera, which appeared In the 19th century, and to Basque rock and punk, which appeared in the 1970s.
When it comes to traditional dances, each province and village has its own moves, providing a patchwork of unique dance steps typically performed during traditional festivals and important events, like the fabulous Hendaye Basque Festival.
The traditional basque outfit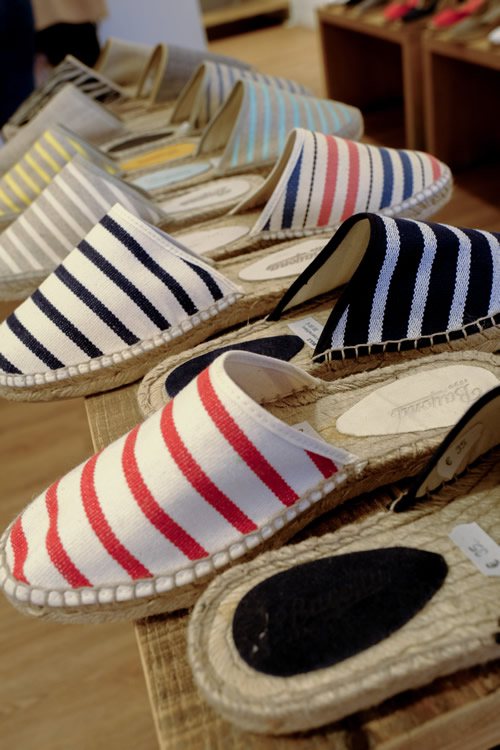 How not to talk about the traditional Basque Country attire? Although there may be some differences between villages, the outfit always consists of trousers, a white shirt with a red belt and a red beret for men (they can also wear a black jacket), and a red skirt, a white blouse and a black waistcoat for women.
The traditional shoes worn by both men and women, called espadrilles, have made their way into the general fashion landscape in recent years, being sold everywhere across Spain and France. But it is in the basque territories that they originated and are still being handmade today. So if you're a fan of the comfort and style these shoes offer, make a stop at a local store for a pair of authentic espadrilles!
Basque sports
Some sports are very unique to the Basque country and these are practically sacred here!
One of the most emblematic sports in Basque culture is the Basque pelota. The principle is simple, you have to send the ball back to the pediment so that it can bounce. To score the point, the ball must land in a delimited area called cancha.
It can be played in different ways and in different places (in front of a pelota court, in a completely enclosed area or in a free space), but in its most authentic form, it is played bare handed. Ouch!
That component of "pain" is common to almost every local sport, which almost always consists of proving your strength through various challenges representing farm work of some sort. These challenges include the straw bale throw, the stone lifting, the wood chopping with an axe or the emblematic tug of war.
Trust me, there's nothing easy about these challenges, which is why the strength of Basque people is nothing short of legendary!
Do you think you can do better? Are you ready for some tough competition? Come show what you're made of on August 15 in the village of Saint-Palais (not far from Saint Jean Pied de Port) for the Basque Strength Festival. Or just come enjoy the show… just as exciting, I promise!
The typical architecture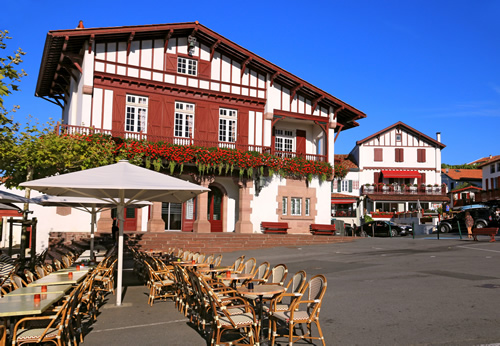 The Basque culture is also well represented by its nature, its landscapes and especially its architectural heritage.
The most famous one, the typical Basque house, also called "Etxe", is recognizable among all with its white and red colours and its very traditional woodwork giving it a real charm.
Yet, there's another type of construction which is also significant of the region: the Labourdine house. Ancestraly used to dry wheat as well as the famous Bayonne ham – which is still recognised as one of the specialities of the Basque Country – the Labourdine house's architecture mixes wood and stone to perfection.
Nowadays,a lot of these houses have been transformed into guesthouses and hotels, so why not stay in one of those charming homes during your stay. While here, do not hesitate to ask your hosts about the Basque culture, I'm sure they'll be delighted to share anecdotes and maybe even some secrets with you.
Immersive experience in the Basque way of life
Finally, let's get our hands a bit dirty. Cuteness overload, cheese platters and authenticity all-the-way, here's a way to immerse yourself in the Basque traditions in all their glory.
A day in the life of a Basque pastor
In order to fully immerse yourself in this culture and live like a true Basque, why not become a pastor for the day?
In the small village of Urkiola, you can live the pastor's life for three full hours during which you will learn the tricks of the trade and try your hand at the various tasks on the farm.
On the programme, you will milk the ewes and shear them (if you are in the right season), you will also feed the lambs and watch the shepherd dog guide the flock.
Did you really think that was the end of it? Of course not! You will also have the chance to make cheese or cottage cheese but also soaps (an artisanal production of the region). To reward you for your efforts, the activity will end with a tasting of artisanal cheese (and I think this is the best ending ever).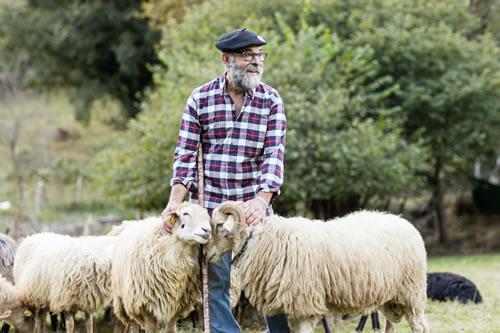 My dear foodies, I am sure that after reading this you already feel like a Basque at heart. If I am right, it means that I have succeeded in making you travel with my words, but now you have the cards in your hands to come and discover the traditions and culture with your own eyes.
I hope to see you soon in traditional attire!