The word says it all: (ART)isanal, the art of precision and tradition.
From wine and cheese to furniture and berets, sometimes the best things are the simplest. Even if today most products are made by machines, there are still people who love traditions and perpetuate their know-how, passed down to them from generations.
So let's go back to the good old ways and dive into the local and artisanal world of VISITGastrOH!.
Artesanal food and drinks
Vino supurao
When talking traditional, the "supurao" wine is the real deal.
This very sweet wine from La Rioja was produced many centuries ago but the tradition slowly got lost as industrial wine took over.
Originally, winemakers started the production of this wine on the birth date of a child. The wine produced would then be kept for many years until the child would grow into an adult and get married, decades later. On the wedding day the wine would be offered to the guests and enjoyed as a celebration of the newly wedded lives.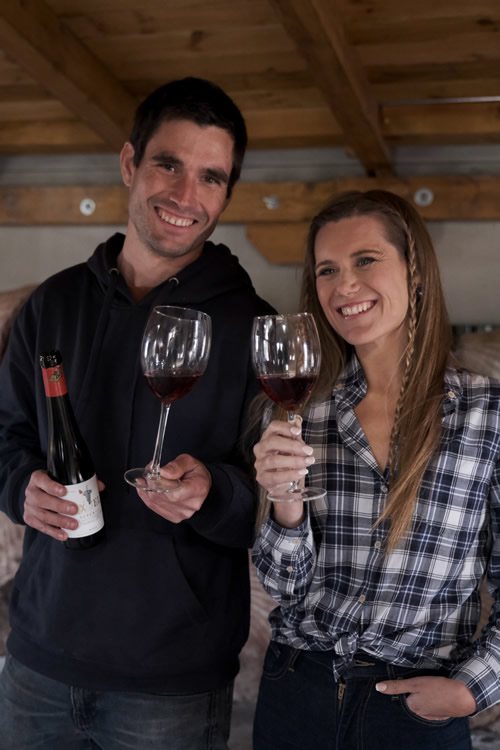 While this tradition got lost, the know-how hasn't, thanks to Miguel from Bodegas Ojuel who has dedicated his life to reviving this unique product, resuming to produce the wine manually, in the exact same way his ancestors did.
You can find this smiling wine producer at Bodegas Ojuel on the downside of the Moncalvillo mountains. In addition to being the nicest host ever, he is a great guide who will happily take you on a tour of the estate and show you the entire winemaking process.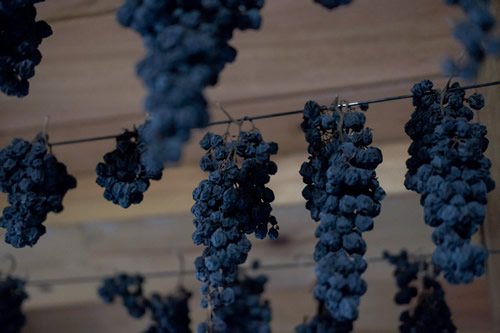 Although you'll definitely have to see it by yourself, let me give you a quick run of what this process entails. After manually collecting the grapes from the vines, Miguel hangs the grapes on "hangers" and keeps them stored in closed rooms in order to be protected. It can take many days for Miguel and his team just to hang the hundreds of kilos of grapes harvested. Over the next months, the grapes will progressively lose water till they reach a high sugar content. At that point, Miguel will press the grape by hand through a system of muscle-powered wheels and wicker sheets. The liquid obtained is then stored in oak barrels and left to ferment for years and years. Everything is done just as it had been for hundreds of years, before electricity was even a thing.
I assure you this hard work pays off. This wine is mmmm… so good I'm speechless!
Craft beer
What about craft beer from the most beautiful retreat in the world? Sounds like a dream, one that was brought to life by 5 friends with a good dose of bravery.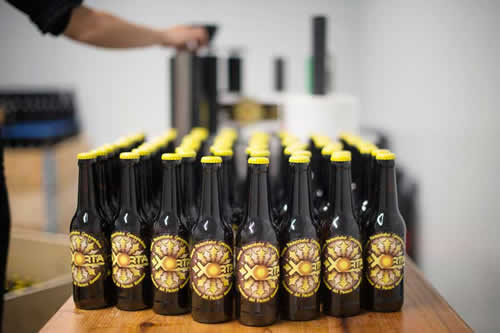 Eneko, Jox, Goizane, Arthur and Ainhoa are devotees of artisanal beer and vast nature, so they decided to transform their passion  into a livelihood. And so was born Xorta, a craft brewery lost in the incredible wilderness of the Pyrenees, where flavours are inspired by the surroundings.
Besides tasting amazing, these beers perpetuate beautiful ancient traditions that shall never be lost: the txokos. This Basque word refers to a place in which friends gather to drink and eat all together. We can say that this company goes the "txoko" way all the way with their taprooms sessions where beer lovers can come enjoy a variety of different artesanal beers and enjoy a good time in good company.
Txakoli wine
Txakoli is without a shadow of a doubt one of the most popular wines in the Spanish foodie panorama. Originally produced in typical farmhouses of Euskadi, the Txakoli survived all revolutions and changes, adapting to the new production techniques without losing its true character.
A white wine with a certain acidity mainly produced in the Spanish Basque Country, the origin of its name is quite uncertain, just like everything else related to the Euskera language.
Some historians claim txakolí comes from "chacón", the multitasking place where grapes were smashed, wine was made and even people ate and drank. Others state it comes from the Basque expression "etxeko ain", a typical saying by farmers which means "enough for home".
Now, let's talk about its surprisingly fresh aroma. To give it its unique touch, txakoli was once fermented in large, very old oak barrels. Although today's producers use stainless steel tanks, it still retains a real acidic zing which makes it one of the best summer white wines in Spain.
Rumour has it, if you're the talk of the town you must be doing something right, or in this case… delicious.
Idiazabal cheese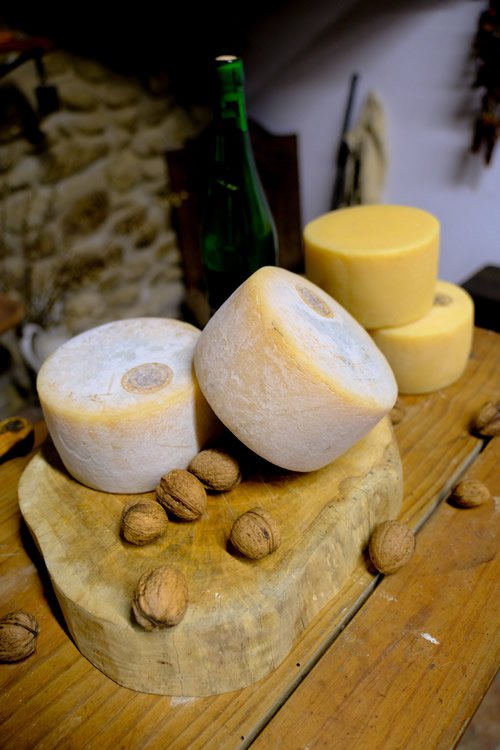 Pay attention because I'm about to open the doors for you to one of my favourite things in gastronomy: cheese!
For all cheese lovers who are reading this, I am sure you are already salivating. Cheese is one of the gems of the Basque cuisine, both on the French and Spanish side. There are endless kinds of cheeses and different ways of producing them for a very loooong time now.
When I say long, I mean it. 8000 years is no joke. Since then, Idiazabal cheese has been produced in an artisanal way in the region of Goierri.
This famous cheese is a cooked cheese made from unpasteurised sheep milk. In order to obtain a perfect result, it must mature for at least two months.
After this stage, the cheese can be smoked with beech, pine or cherry wood to give it a slightly different taste. It can also be eaten directly and have its original taste and I promise you won't regret any single bite.
Ossau Iraty
Once I start, no one can stop me! Let's continue with my cheese obsession. My next crush is a traditional, Béarn-based and worldwide-acclaimed sweetheart: Ossau-Iraty cheese.
Classy to the core and a must in current Béarn cuisine, this masterpiece is made from whole sheep milk. Originally, its production was only farm-based and just shepherds with flocks of ewes made it with the milk from their own farms.
Today, although the concept has been taken over by cheese dairies in Béarn, the cheesemakers try to keep the original production technique and source their milk directly from the shepherds. For a perfect result, the cheese must mature for at least 80 days and up to 120 days depending on the size.
This know-how and its incredible taste got it the title of best cheese of the world on two occasions. Such a star!
Artisanal equipment
Tradition and know-how is not only a gastronomic matter in this region of the world. Locals work hard to keep local artisanal products and processes alive in everyday objects as well. In VISITGastrOH! handicraft is a culture and a lifestyle passed on through generations with care and dedication.
The art of cooperage
In La Rioja, The Magreñan company has been crafting oak barrels in the same artisanal way since 1820.
These oak barrels are used to preserve the local wines and play a huge part in their outcomes. The quality of the storage can make or break a wine. This is why each barrel is adapted to a different type of wine and uses wood from different sources (French, European or American oak) to make the best out of it.
Let's just say that there's a good reason why La Rioja wines are considered amongst the best in the world. So it's fair to say you can judge this book by its cover.
Ceramic art for the everyday life
If you can't go to art, art will come to you, and having hand-painted dishes in your cupboards is the best way to prove it. So while on your shopping spree in Saint-Jean-de-Luz in the French Basque country, don't forget to stop and check out the many shops offering beautifully hand-painted tableware.
The city has always been a source of inspiration for many artists such as the painter Matisse. The clear maritim influence that comes with this city is one of the main topics in these fragile masterpieces.

If you thought that hand-painted porcelain was a thing of the past, think again! This tradition has no age restrictions as So'izu beautifully demonstrates. This young local designer recently started his own silk-screen printing business on ceramics, bringing crockery and dishes back to life with handmade designs inspired by nature and the Basque culture. As a result, each plate tells a story, with endless hours of work behind.
PS: Hurry up, I'm already on my way to get mine!
Weaving
Pays Basque is also known for its know-how and tradition in linen weaving, but today there are only few workshops that continue to transmit this ancient part of Basque culture, the main one being Lartigue 1910.
It's meticulous, beautiful, colourful, traditional and local! So if you fleetingly doubt weaving is an art, come and visit the workshop in Ascain. I guarantee it will change your mind.
This place has a real tradition that has been passed on from generation to generation and makes all sorts of items such as table linen, bed linen, towels…
Since 1910, the company has been guaranteeing authentic, handcrafted products made using ancestral techniques from the history of weaving and respecting the different stages such as winding, warping, weaving and design.
These creations perpetuate a great technique but above all the culture of the region and its many facets.
Beret factory: a cultural symbol made in Béarn
Fashion can preserve traditions through ages just as much as gastronomy does!
The beret is a traditional symbol of the Béarn region. Their artisanal production process is synonymous to care and very representative of the territory.
Making a beret is more than just sewing a few pieces of fabric, it's working with wool according to well-defined steps and perpetuating a know-how from the Middle Ages.
The making of a beret could be considered an art in itself. For a beret to be perfect according to tradition, it needs to be sewn, scraped, shorn, dyed, fulled and examined in detail to make sure there are no defects.
Nowadays it's hard to find a garment more crafted and long lasting than this one out there. My dear fellow travellers, time to give up on fast fashion and embrace Berets, they won't let you down, not even in a million years, literally.
Authenticity is for everyone!
After this trip to the heart of local traditions and know-how of the little regions, I'm sure you're craving to come back to the old ways. If you are feeling a sudden urge to sew your own clothes or make your own cheese, come to VISITGastrOH! and enjoy the many workshops, demonstrations and shops that will take you right back to a simpler time where even everyday objects and garments are a meaningful part of the culture.