Let's be honest, holidays with friends are always a blast! Whether going on a long road trip or just skiing for a weekend, you're sure to have a great time, laugh and build some sweet memories.
Yet, to experience these moments of pure happiness, you have to go through the tricky step of… organising the trip!
Trying to get more than two people to agree on anything is like playing jenga: one wrong move and it can all come crashing down. But don't panic, I promise it's gonna be easier this time because VISITGastrOH! has a little something for everyone. So whether you're a Carrie or a Samantha, you'll find your perfect date… with the perfect drinkI
And to make it even easier, I came up with a list of all the activities you can do with your besties around here. Skiing, eating, sailing…everything is there for you to have the best holiday with your mates!
And you know what they say? What happens in VISITGastrOH!…. goes on on Instagram for everyone to see and get oh-so-jealous!!! 🤩🙈
Bar-hopping in Calle Laurel: sip, snack, repeat

This is surely one of the most famous streets in La Rioja and if you are planning a food trip in Spain, you simply can not miss it. Winter or summer, rain or shine, this street in the city centre of Logroño  is party central all year long.
Known for being THE ideal place to eat pintchos – tiny portions of food with mighty flavours – the Calle Laurel gets busy from 7pm till the wee hours of the morning.  It is the perfect occasion to experience the local lifestyle, going from bar to bar to munch on each location's "chef's special".  Nah hah! You cannot just eat anything anywhere, randomly. Here, every place is famous for something, be it roasted mushrooms on a spike, pig ears or stuffed fried peppers.
When it comes to wine, though, there is no competition. Silky smooth and delicious, the wines from the surrounding vineyards of La Rioja will be proudly served to you in any local bar. Kilometre 0 at its very best. So just ask for the "vino de la casa" and you'll never be disappointed.
Besides all the drinking and eating, Calle Laurel is also a great place to mingle with the singles and make new friends. So get your mojo on and enjoy the Logroño lifestyle!
Brunch amongst the vineyards of Bodega Baigorri
Who doesn't LOVE brunch?! Im-pos-si-ble not to! It's the best of both worlds, combined in one sumptuous moment of pure debauchery. Add a touch of bubbly, some green vids and a perfect view of the hills and you've got yourself pure decadence – Spanish-style!
This experience is only available in summer and for groups of at least 4 people, so grab your Doodle and get planning because tickets go fast!
Beyond brunch, the Bodega Baigorri offers a total immersion in the heart of wine culture. In Septembre, you can even enjoy the harvest with a special tasting menu and guided visits showing the entire wine-making process.
Septembre is not good for you? No worries! The restaurant on the estate offers extravagant menus all year long which feature delicious dishes made with local products or a large variety of signature wines.
Visit the cheese factories of Aldaia
Speaking of wine, what could be better than a good cheese to accompany all this and bring out the flavours? Drive 50 minutes from Pamplona to Lezáun to immerse yourselves in the hilly landscapes of the Basque Country and discover the quesería Aldaia,  nested amongst the Urbasa-Andia mountains.
The cheeses from this farm are guaranteed to be 100% natural and of good quality, and you'll have no reason to doubt that when you see their 400 Latxa sheep running around in the fields.
You might want to go there to visit the cheese factory and learn about the cheese-making process while enjoying a tasting of the D.O. Idiazabal cheese – which can only be found in this area. Or, if you're a fan of furry beasts like me, you might go there just to hang out with the sheep and pet them at will.
My personal recommendation is to take the all-inclusive tour where you will be invited to lunch in the beautiful Sierra de Andia Natural Park. You will find yourself surrounded by greenery, tasting the typical dishes of the shepherds of the past. A pure moment of mindfulness to resource yourself after a night of partying. 😉
Guided tour in the desert
Yes, you read the title right: in the desert. I am talking about a full-fledged moon-like desert in the middle of Spain, in the Province of Navarre. Barely an hour away from the running bulls of Pamplona and the meditating wines of Otazu, and just a 30 minutes drive from Tudela, the Natural Park of Bardenas Reales offers a landscape out of this world. In fact you might already know it as the Dothraky Sea of Games of Thrones. You know, that rugged place she has to cross on foot under the burning sun when taken prisoner by the men of Khal Moro. No? Ok, ok! I'll just put the video of the scene so you can appreciate the extreme beauty of the Bardenas Reales by yourself.

In the Bardenas Reales, you can go buggy riding, take a tour on an electric bike or simply go hiking and enjoy the unbelievable views. Nevertheless, for a visit to the desert with your friends, I'd totally recommend the guided tour in 4×4. The tour takes you far into the desert and lets you enjoy the sunset over the dunes.

Once night has fallen, you can observe the stars with telescopes and enjoy the vast nothingness, reflecting on our weight in the universe and the sense of our lives… Ups, getting a bit too philosophical here. Let's get back to earth, quick!
Sailing on the Urdaibai ria
Alright, when I said earth, I really meant sea! It's time for a drastic change of atmosphere with a sailing trip on the Atlantic Ocean. I hope you are not seasick because it's about to get rocky!
Just kidding! This sailing trip on the estuary of the Oka river in the Reserve of the Biosphere of Urdaibai is perfect even for the novice navigators. Protected by land on both sides, the estuary's waters are calm and serene, offering a picturesque journey amongst the green hills of the Basque Country.
Start from the port of Mundaka and embark for an hour to sail the protected waters in the company of an expert guide.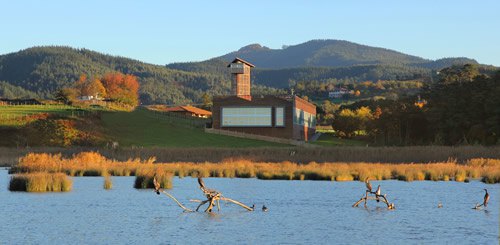 @Turismourdaibai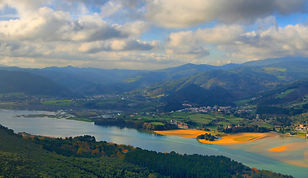 During the tour, the boat stops at various places so that the guide can tell you anecdotes, legends or historical facts about specific places in the region such as Gernika or the beach of Laida.
To ensure that this activity is perfectly representative of Basque culture, a tasting of local products will be offered on board the boat followed by a performance of traditional Basque music which will no doubt become the soundtrack to your grand journey.
Surf, pelota and yoga in Bidart
Are you relaxed enough? Time to get our bodies moving to melt down some of those calories we've been absorbing all through the trip! To this aim, I'm taking you to Bidart, a small beach town located just 20 minutes away from Biarritz.
No matter what you like to do, you are bound to find an activity that will appeal to everyone. You can book a surfing lesson, meet the locals, do yoga or even hike the coastal path. But for something truly unique and a 100% Basque: go watch a game of bare-handed Pelota! Imagine baseball. Now imagine playing baseball with your bare hands… Painful right!
Basque people are known for their strength and love for slightly barbaric sports. And for the audience, watching them is a blast!
Come learn more about local activities and traditions with your friends and you'll have plenty of fun stories to bring home.
Hike one of the most beautiful circuits of the Pyrenees in the Jurançon – while solving mysteries!
If your little group has a knack for escape games and trivias, this is a great opportunity to put your minds at work while exploring the Jurançon valley and its winemaking traditions.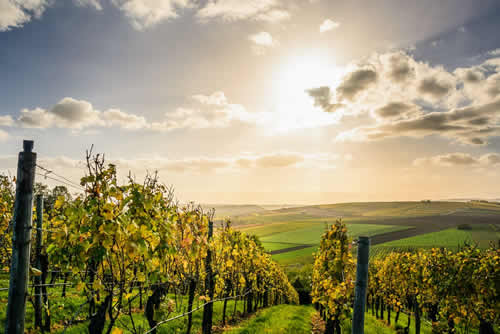 Hop over to Béarn and become a detective for a day to unravel the mysteries of the Jurançon winemakers. Choose between solving a murder or finding the culprit of a robbery and go through an entire wine circuit in a different and fun way.
Throughout the activity, you will visit several vineyards where you'll be able to taste different wines, all the while hiking through the beautiful landscapes of the region. Now all this walking can get a bit tiring or tough so alternative solutions such as electric bikes or van rental are available so that anyone can enjoy the trail.
Slide down the snowy slopes in Béarn
It is fair to say that a lot of these activities are better enjoyed when the weather is warm. But if you dream of a weekend escape from reality with your besties, a ski trip in Béarn is exactly what you need!
There are many beautiful places to ski in the area, but for a fun unpretentious time, the ski resort of La Pierre Saint-Martin offers some really breathtaking views, snowshoeing activities and events dedicated to the national French sport of raclette eating. What's a raclette you say? Just about the best way to enjoy a meal with friends: mixing and matching ingredients by putting it into little spatulas and fighting for a spot on the grill! Mmmm.. I think an image is needed here: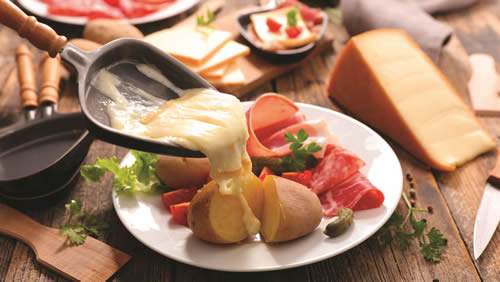 The resort is located on the border between France and Spain and is about 50 minutes from Oloron Sainte-Marie.
No matter if you are a professional skier or a beginner, it is obvious that you will love this place where you can sit on the chairlift up the slopes while watching the ocean in the horizon.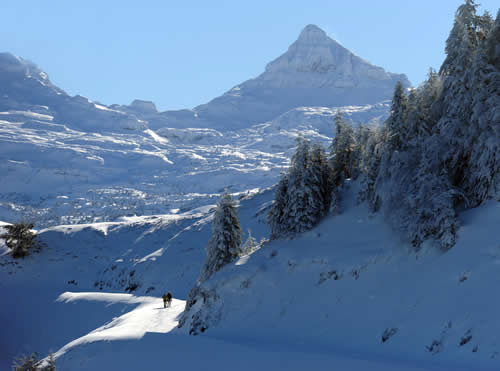 There are many more amazing places and landscapes to explore throughout VISITGastrOH!. If you feel like I left you hungry for more and would like to dive deeper into the local culture and nature, I invite you to check out my articles on landscapes that are out of this earth and truly thrilling experiences.
Now that I've given you all the tips you need to make the most of your holiday, it's up to you.
​​All you have to do is bring your friends, your good mood, and… sip, snack and repeat!