The best thing about travelling is trying out things you can't do at home!
Have you ever thought of stepping completely out of your comfort zone and trying out unusual and exciting experiences? Personally, I love trying out as many things as possible so that I don't regret anything (even if fear often gets me)! But the key is not to think about it but rather go for it head on and come out of it proud and amazed.
Believe me, VISITGastrOH! gives you access to thrilling activities that will make you push your limits (and brag about it to your friends).
We call it Land of Sensory Thrills for a reason!
Fly over a vineyard in a hot air balloon
Take off and get a breath of fresh air!
La Rioja offers you the opportunity to discover its vineyards from the heights and enjoy an unforgettable oenological experience.
Spend four marvellous hours flying in a hot air balloon over the Ebro river, the Cantabrian mountain range, vineyards and wheat fields while tasting delicious wines from the region. There are many flying routes available for you to choose from, all of them offering beauuuuutiful views from spring to fall.
Keep your head in the clouds and bring your childhood dreams to life with this fabulous, romantic, thrilling experience.
On landing, a typical Riojan snack will be awaiting you for a perfect ending to this enchanting journey.
Go bungee jumping from one of the highest bridges in Spain
This activity is the perfect way to get your adrenaline flowing so I hope you have a strong heart.
In the Rioja region, the company Moscaventur offers you many thrilling activities, including bungee jumping.
You can choose between two bridges of different heights: the 35-metre-high Jubera Bridge or the 60-metre-high Enciso Bridge (one of the highest in northern Spain). Safety is taken very seriously at this event with many checks and a small test jump before the big jump so the organisers can see how you jump.
I warned you that you would have to push your limits, now it's time to show the whole world that you are up to the challenge!
Tandem Paragliding
The Navarre paragliding school offers the services of professionals to teach and transmit their passion for paragliding to anyone who's up for a fan-tas-tic glide.
It is an activity that can give you a good dose of adrenaline while still allowing you to enjoy breathtaking landscapes and discover Navarre from the sky.
The flights offered are tandem flights with or without motor (depending on the location). Flights with paramotors start from the Lerate car park at the Alloz reservoir (20 minutes drive from Estella-Lizarra). Non-motorised flights start from a variety of places such as Elimendi, Codes, Urbasa, Montejurra and Monjardin.
Go down to the natural caves of Navarra on floating walkways
The Mendukilo cave is located near Astitz in Navarre and although it has been closed for some time, it has recently been renovated and is now open to the public, shining in its full stalactical glory.
During your visit, you will walk about 540 metres on floating walkways and descend to a depth of more than 40 metres to discover the different rooms in the cave. But I must warn you, the cave has a humidity level of 100% and the temperature generally does not exceed 10 degrees – so don't forget your sweatshirt.
During the 50-minute tour,you will visit three rooms: the shepherds' hut, the lake room and the dragon's house. Each room reveals the marks of time, geological formations such as stalactites and stalagmites, an underground lake or a legendary story to tell.
Surf, txakolí and a Game of Thrones Set in a day
You must be thinking: how do all these things combine? Crazy as it sounds,it just does. Welcome to Bakio, one of my favourite spots on the Basque coast!
Known as one of the surf meccas in the Cantabric Sea, this coastal village offers surfing thrills for everyone, from waves' masters to beginners. Here your day may start with an introductory surf session in the wild coast of Bakio's beaches.
After this literal fresh start, go taste txakoli in the local wineries of the village besides dropping by the Txakoli museum. It's no secret Bakio locals love surfing and drinking at the same level.
Once your hydration levels are optimised, let's go to the haunt of pintxos. Indeed, this plan sounds so cool already, I might join you!
And last but not least, finish your day in the best way possible with some cinematic thrills.
Head to San Juan de Gaztelugatxe, just 10 minutes away by car from Bakio, to enjoy the crazy views from a chapel on the top of a little island connected to the coast through vertiginous 241 steps.
This place is the definition of breath-taking, that's why Game of Thrones decided to shoot one of its chapters in this spot.
Ready your heartbeat, because we're going on a thrill roll!
Submarine oenotourisme: explore underwater wine cellars
In the Basque Country, ageing wine by leaving it in underwater cellars is a technique that has been used for centuries then gradually lost to more modern technology. Yet, one company has decided to keep the tradition alive and allow visitors to see it and taste it for themselves. According to their many visitors, the result is simply "espectacular"!
The Crusoe Treasure Underwater Winery takes you on a boat trip to discover their wines stored at a depth of 20 metres into the Atlantic Ocean. Learn all about their history in this 2 hours excursion, enjoy the underwater wines with delicious tapas, and admire the idyllic setting of Plentzia Bay in the province of Biscaye.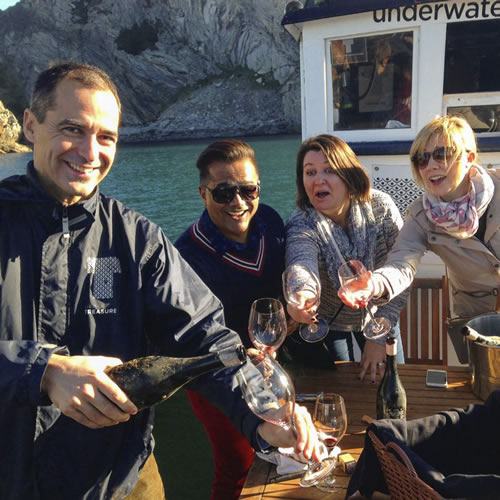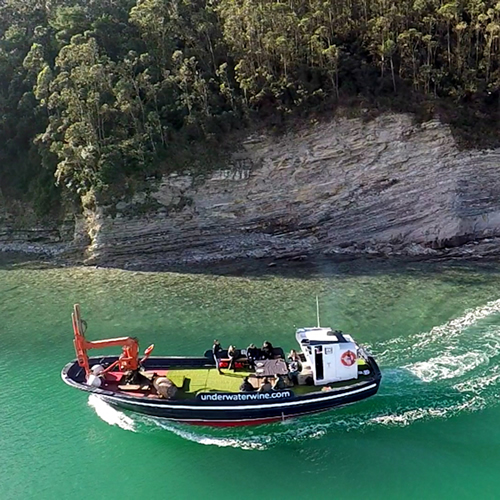 Fishing for chipiron by canoe on the french basque coast

Have you ever tasted Chipirones? They are a real delicacy in this corner of the world and I'm obsessed! These little squids can be cooked in so many ways, the most common one is grilled but in salad or fried they are just as finger-licking good.
Eating them is fun but fishing them yourself is even better!
Ahead over to the French Basque Country, two hours before sunset, and embark on a canoe with but also try your hand at chipiron fishing.
You will be accompanied by two experienced fishermen who will tell you all about their daily life and the traditional fishing techniques while you enjoy a privileged view of the magnificent bay of Saint-Jean-de-Luz.
If you are up for it, you can even learn how to steer the pirogue or discover different fishing techniques such as the nylon line and the jig. And of course you'll get to bring home some delicious seafood for a lush dinner.
Walk 150m above the void at Holzarte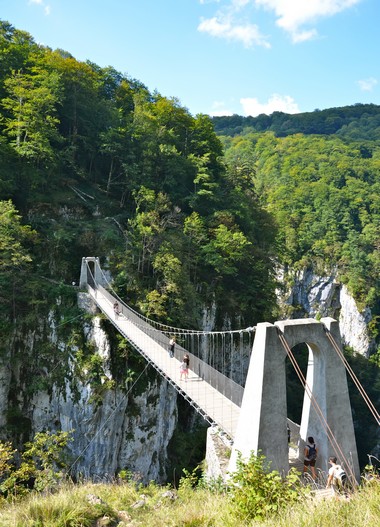 Embark on a hike in the heart of the French Basque Country at Logibar in Haute-Soule, the wildest and most secret province of the VISITGastrOH! destination.
Contrary to your typical trail, this hike has a few extra features that you might not like if you are afraid of heights. It lasts for about two hours during which you will cover 4.5km and a little more than 350 metres of ascent. All good so far… until you reach the Olhadubi canyon, which you will have to cross using a suspended bridge with 150 metres of nothingness under your feet!
The Passerelle d'Holzarte is stable, but if you cross with several people at the same time, the slight swaying might get your adrenaline pumping. Your head knows it's safe, but your heart might jump in your chest a bit! Totally worth it though as the whole trail is very pleasant.
A canoe bivouac excursion on the Gave
In Béarn, it doesn't matter how you get somewhere, it only matters that you enjoy the view on your way. Walking, riding, on a horse or in a kayak, all the roads lead to a beautiful landscape.
I have to say, though, that I particularly enjoy kayaking down the Gave for a little stroll with an extra roll.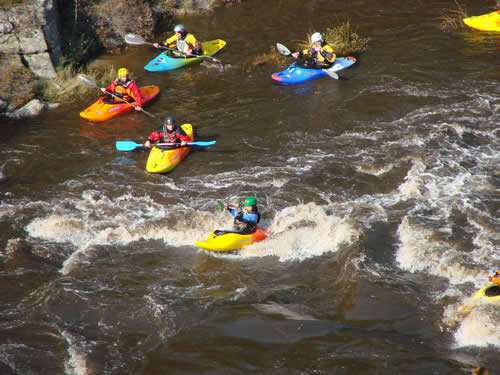 Photo credit: @Les Francas
You can try this activity for just half a day, but for an experience rich in emotion, don't be afraid to take the plunge and opt for a two-day trip all the way down the river. You will of course be accompanied by an instructor who will be there to assist you but also act as a tourist guide to provide you with insider knowledge of the area.
After the thrill, time to chill! At the end of the first day you will spend the night on an island. You'll enjoy an evening around the fire sharing traditional local food before discovering the beauty of sleeping in hammocks under the stars.
Photo credit: @Les Francas
Know the volcano of the French Pyrenees
Dear adventure seekers, there's no need anymore to go to Hawaii to see volcanoes.
What you're looking for is Midi D'Ossau. This is the name of the ruling volcano of 2,884 metres in the middle of the French Pyrenees in Béarn.
Nowadays, this volcano is no longer active, but the beauty of this place and its surroundings are to die for.
There're plenty of routes to go hiking, but I strongly recommend you make a stop in the Pombie Refuge, a beautiful cabin on the way to the peak of the Midi D'Ossau peak. It's a typical crosspoint for mountain lovers, so you might also find someone cool to spend some time with.
Last advice: as you're in the Ossau valley, why don't you grab some delicious Ossau-Iraty cheese as a snack for this trip.
Fun fact: It's easy to spot the volcano Midi D'Ossau. Its two main summits remind me of two horns, making it easy to distinguish from the rest.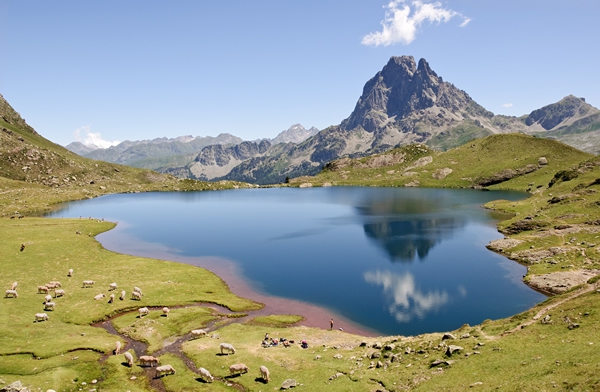 So here's my list and I'm not gonna lie, telling you all this gave me the shivers and an urge for some serious adventure right about now! Shall we go?
See you soon !