Wondering where to go for the best street food experience in your holidays? Feast your eyes on these tasty foodie places, which reveal the best flavours – and culture – of the five VISITGastrOH! territories.
Calle Laurel: walk from bar to bar, order a pincho, and move on to the next spot
One of the main reasons why La Rioja is a great base for foodies is the proximity to some of the top wineries in Spain, but it is also an amazing place because of the local food scene.
In this region, you don't eat tapas, you eat pinchos, and let's be honest It's one of my favourite ways to eat in Spain! Walking from bar to bar, eating little bits of tasty food along the way at any time of the year, and making some friends along the way.
Pinchos in Spanish or pintxos in Euskara, unlike tapas, are typically made of a piece of bread on which several ingredients are placed and held together with a wooden spike.
But let's get to the heart of the matter and into the heart of local street food with the most famous street of La Rioja: calle Laurel.
Calle Laurel is a street that runs through the centre of Logroño, contains dozens of pinchos bars, and is the epicentre of its social life. Here bars are located door to door, each one with its specialty which is a closely-guarded family secret, and the gastronomical offer is infinite.
Mushrooms on a spike never tasted so good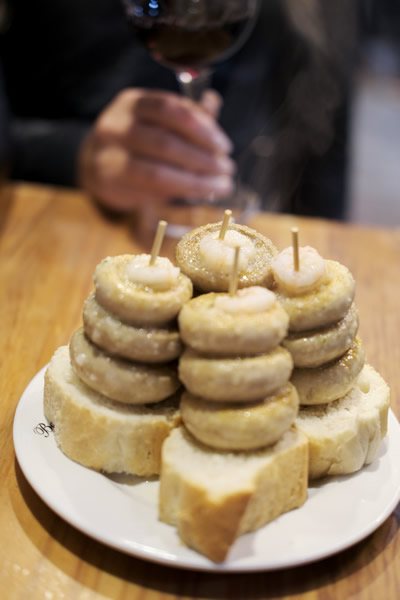 You could say, if you haven't eaten the stellar champignon pinchos of calle Laurel, you have not seen Logroño. Not in vain, La Rioja brings more than half of the mycological production of Spain. Three big juicy grilled mushrooms cooked to their point right on a plate, placed on a slice of bread and topped with a small prawn and as you can imagine, they are not the easiest thing in the world to eat. That's why there is even a technique to taste them without staining yourself.
Battered pork ears
Another of the mythical pinchos from the zone is battered pork ears. Served between two slices of bread, these could easily be considered a "must" of the local gastronomy. ​​Even the most sceptical will fall.
No matter what you choose, the variety of pinchos in Calle Laurel is endless and they are all worth trying at least once. Plus they are awesome to share and enjoy a convivial moment with your friends, your family or your beloved. So, cheers and get ready to do some serious finger-licking!!
Oh, by the way, don't forget that bars in Spain tend to close down between 4pm and 8pm. So enjoy a nice siesta for a true Spanish experience.
Last but not least, I say you should definitely check out the Mercado de San Blas for a full overview of all of the local produce, meats, and fish that are used in all of those tasty pinchos mentioned above.
Must-Try pintxos in Pamplona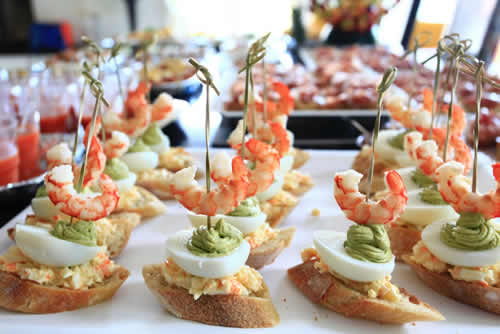 This time, it is in the Navarre region that you can experience gastronomy in street food mode!
I honestly doubt I'm the only one who always wants something to eat when I'm having a drink with friends… Who's with me?
So pintxos are kind of the perfect solution: a mix of small, local and delicious portions that perfectly accompany a beer or a good glass of wine. Whether you prefer traditional specialities or want to be a little more innovative, you will find plenty of choices in Pamplona.
Choose between tortillas, croquetas, pulgas (mini sandwiches) and many other specialities that you will find in almost every street in the region! The term street food makes sense, right?
Getting pintxos in bars and taverns of Pamplona´s old town is a must if you are visiting the capital of Navarra. Pamplona has a ton of pintxos bars. The best are located on Calle Estafeta and Calle San Nicolás near the main Plaza del Castillo downtown, both very lively streets full of life and gastronomical treasures. It is impossible to only stop at one.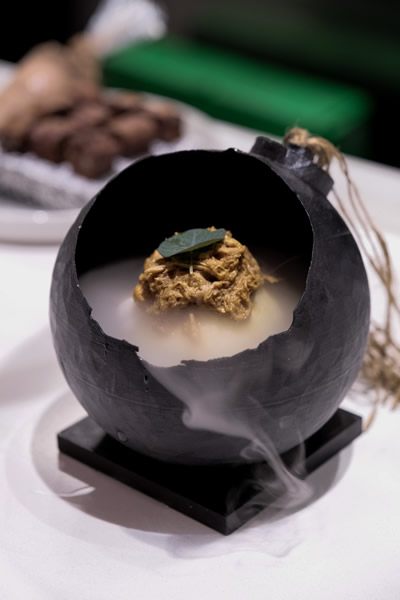 Here is the list of my favourites locations, a good place for you to start:
Bar Gaucho, located in Espoz y Mina Street, is the most famous "Pamplonica" place to taste their tasty potato omelette or their irresistible foie pintxo. They also prepare croquettes, chistorras, and tortillas of all kinds.
There are pintxos of all sorts. Small and not-so-small, simple or elaborate. My next favourite place is known for offering a very creative vision of pintxos: the Baserriberri restaurant.  Every bite is packed with detailed flavours in this modern establishment with a young spirit, designed for you to rediscover the gastronomy of the area. Here you will find pintxos "d'auteur" like the bOOmVeja made with lamb and served in a… bomb! A must try!
The gastro gourmet place also offers a cooking show that will allow you to enjoy an experience for all the senses with a very attentive staff.
Hungry yet?
La Ribera Market in Bilbao: a temple for street food lovers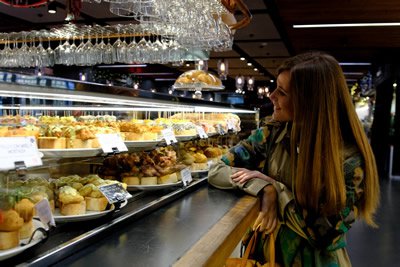 If I tell you that people of Northern Spain like to eat well, you probably won't be surprised. I could have gone on and on about the delicious pintxos of the Navarra´s territory for a long time, but I think it's time to change things up a bit and bring you another version of street food, this time from Euskadi.
You may have heard of the Mercado de San Miguel in Madrid or the Halles Paul Bocuse in Lyon. Well, these "covered streets" are similar and equally worthy of a visit.
The La Ribera Market, the largest food market in Bilbao, could be considered an offshoot of street food for the simple reason that they are covered, but with all the products on offer in the different stalls, many of them could well fit into this category.
I strongly advise you to stroll through the halls to discover an impressive array of fresh and delicious products, but above all to delight yourself with a meal on the fly in one of the gastrobars of the place.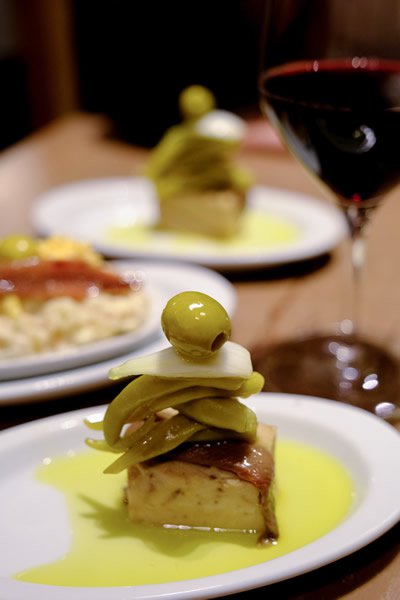 This is where the concept of street food comes into its own, you can "eat on the go" with a choice of burgers, sushi, tapas and pintxos or a variety of desserts.It's almost imperative for you to try some of the pintxos in the capital where this kind of miniature food was actually born. All this to be enjoyed while walking along the alleys of the halls.
This temple of food is filled with gourmet bar-restaurants in a space that offers delights such as the mythical gildas (linkear al articulo 2) (guindilla pepper, anchovy and olive pintxos).
The Gilda is a favourite among locals and a great way to start the evening in Euskadi. It's such a collision of citric and bitter flavours that it really awakens your senses. I also recommend you take advantage of the café situated on the ground floor. It offers a lovely terrace with beautiful views of the river and features live jazz shows in the evenings, all summer long.
This is how we eat in Northern Spain, are you coming?
Your voyage to the heart of the most beautiful markets in the French Basque Country
Now it's time to cross the border to the French Basque Country, where street food is also very present, as with outdoor markets and gastronomic festivals. A beautiful land of tasty dishes and flavours linked to a gastronomic culture with strong roots.
This version of street food is more about local produce, seasonal fruit and vegetables grown by farmers, fish caught in the morning or tender meat from the butcher. Ladies and gentlemen, this is the atmosphere of the markets! A local version of what we call street food and all with a mix of discovery, conviviality and colour that will make you want to buy everything.This is a moment of complicity with the local producers, and a moment of discovery for your papillaes.
The market hall of Saint-Jean-de-Luz
Even though Saint-Jean-de-Luz is a small sized seaside town, it is gorgeous and has much to offer. The town is perfectly walkable. Roaming the charming small streets, you can find  an amazing selection of artisanal and gourmet food shops with foie gras, duck confit, specialty meats and cheeses, oils, and wines, amongst other things. And for a bit of fashion, the traditional espadrille shoes!
Of course, here too you can enjoy pintxos by the beach, but if you really want to immerse yourself in the local and spontaneous atmosphere, the market is the perfect place. This is one of the most beautiful and charming markets in the Pyrénées-Atlantiques, in my opinion!
Come with an appetite, because the colourful and generous stands will make you want to try EVERYTHING!
The market of Espelette, the city of chilli
To add a little folklore to all this, I strongly invite you to come and visit the region during the gastronomic festivals such as the ham fair or the chilli festival, where everyone dresses up in red, immerses themselves in traditions and tastes specialities on every corner.
The Espelette market is a must. It is one of the oldest markets in the Basque Country where you can find the famous Espelette peppers, to taste it fresh or dried, in powder or in delicious preparations in jars and preserves.
The unique taste of Bayonne ham
Do you like Ham? In Bayonne, they take their ham very, very seriously. Each ham weighs between 12 and 15 kilograms. In April each year, the city organises the Bayonne Ham Fair. Since no less than 1462, people from the entire region have met on this occasion to judge the best ham, meet local producers, enjoy the joyful atmosphere, and of course taste plenty of ham!
Explore Pau, the incredible indoor market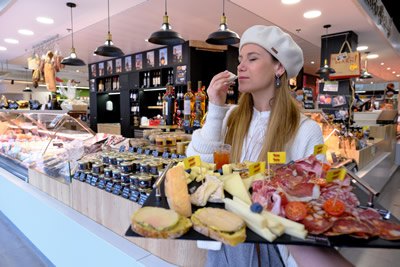 Les Halles de Pau, definitely worth a visit and a great place to explore the culinary delicacy of France. There is so much to see and to taste.
This daily market makes for an enjoyable walk whether you are here to buy or just to look. This place is a dream for food lovers. This market is great to pick up a bit of food, with a range of cheese, charcuterie, organic bread, fresh duck pate, etc.
Succulent seafood that is worth their price, warm and welcoming waiters, a very nice atmosphere with a possibility to eat inside Les Halles but also on a large outdoor terrace… Discovering this place made me want to rent an apartment next door just so I could shop here everyday! Hehehe!
Bon appétit to all!