Taking a holiday is everyone's dream but you may not have the opportunity to go away for a fortnight at a time because of work or other reasons.
No problem, planning a short holiday away from the city is simple. All you have to do is find a beautiful location, away from the crowds but with enough things to do, not too touristy yet with enough tourist facilities so that you can properly enjoy your stay, not too expensive, not too far away, not too cold, not too hot…. Aaaah! Forget the romantic long weekend.. Let me go back to bed instead!!
Fortunately for you, I am willing to share with you my three favourite and top secret (or not so much) plans for a short 3 to 5 days holiday full of adventure, nature and yummy dishes!
If you've read my previous articles, you know by now that VISITGastrOH! is a unique gastronomic destination that combines 5 different territories over 2 countries, united by their common Basque origins and culture.
Because this land has so much history and has been at the crosswalks of armies, explorers and pilgrims for millenia, it has defined its identity around the one thing all these people and civilizations had in common: a love for food.
So here are three different thematic itineraries that combine beautiful landscapes and memorable experiences with delicious gastronomic discoveries, to feed both your body and your soul.
TRIP #1: from nature to architecture…or viceversa!
Here I have a long-weekend trip planned for you that's all about unusual landscapes that will make you feel like you travelled far.
In just three days, it will take you to no-less than four sensational locations, which you can do in whatever order, depending on where you land or which direction you come from!
If you land in Zaragoza, rent a car at the airport and in less than an hour you'll be in Tudela, a place that will take you from veggies to rocks and from extravagance to minimalist nature. If you arrive through Bilbao, stop by Laguardia first for a visit of two exceptional architectural landmarks: the wineries of Ysios and Marques de Riscal.
Either way, I recommend you spend at least one night in Tudela in order to fully appreciate the city by day, and the beauty of the Bardenas Reales outside of the main sunny hours.
Bardenas Reales
Whether you visit them on your first or second day, early morning and late afternoon are really the best time to enjoy this moon-like dessert without suffering from the heat and scorching sun. The Natural Park of Bardenas Reales offers a truly out-of-this world panorama that will make you feel like you're in a movie. In fact, many movies were shot here, including the famous Games of Thrones series.
Since this is a short trip and you don't have much time, I recommend you rent a 4×4 to cover more in less time. Plus it's just a lot of fun!
Tudela
Spend a night in Tudela and take some time to get lost in its streets and try out the local gastronomy.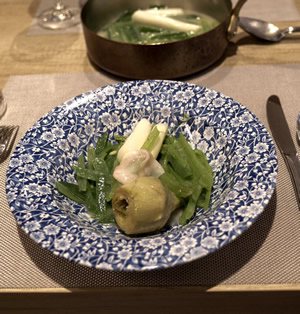 Little known as it is, Tudela is actually one of the European cities with the highest historical value due the amazing diversity of cultures that left their mark on the place. After being on the pathway of the basques, celts, romans and visigoths, the city became a strategic location for the muslims, jews and mozarabs who lived together here for over 400 years. Still today, the city proudly exhibits its mosques, synagogues and cathedrals.
On the gastronomic side, Tudela is also renowned for its vegetable garden. Here you will discover unique varieties of asparagus, artichokes and Piquillos de Lodosa (local red chilli peppers). You've got to try out the local specialty: the authentic menestra of Tudela!
This soup is composed of only four ingredients – asparagus, artichokes, green peas and lima beans – yet it's nothing but easy to make. For a proper menestra, each ingredient has to be cooked to perfection and the olive oil and garlic have to be dosed carefully. Every single ingredient has to be freshly picked locally in the true from field-to-fork tradition. As a result, purists would tell you that the real menestra of Tudela can only be enjoyed in spring, when its ingredients are in season.
Avant-garde in Laguardia
Before or after, it doesn't matter, but you simply must stop at Laguardia for a visit to two world-famous wineries, renowned both for their wines and their architecture. Get a glass of wine and get ready for an afternoon of delightful contemplation.
Bodega Ysios by Calatrava
You may have heard of the famous architect Santiago Calatrava, the controversial and uncompromising genius whose work is both fascinating and unexpected.
His best-known works include the Olympic Sports Complex of Athens, the Milwaukee Art Museum, the World Trade Centre Transportation Hub in New York City, and his largest project, the City of Arts and Sciences and Opera House in his birthplace, Valencia. Less known but just as impressive is the winery of Bodegas Ysios.
Named after Egyptian gods Isis and Osiris, the Bodega Ysios is located in Rioja Alavesa. The building's design is really most notable for the pixelated effect of its ondulated roof that follows the waves of the mountains behind. You can stand there for hours and observe the hipnotic way the changing sunlight accentuates the roof tiles creating a kinetic effect.
Below the aluminium roof panelling, warm wood of the facade creates a fantastic contrast while meeting the calm background of the vineyard.
The construction of Bodegas Ysios began a series of avant-garde developments amongst wineries in the area, also known as "bodegas author" which combine production, tasting and sale of wine they produce, generally located in the same vineyards. Among them the stunning Bodega del Marqués de Riscal.
Bodega Marqués de Riscal by Frank Gehry
This building is impressive, memorable, poetic and unapologetic all at once. The combination of the hotel's avant-garde structure with the mediaeval rustic charm of the winery and village attached to it creates an aura of movie-like fairy-tale wonder.
Renowned architect Frank Gehry presents here an innovative and whimsical design, in keeping with the spirit of Marques de Riscal. The explosion of colour and complex shapes creates an endless movement like nothing you've seen before. The rectilinear composition of prisms seems to float above the ground thanks to three supercolumnas that support the entire building.
And did I mention the building hosts a Michelin-star restaurant and a spa as well?? The Vinotherapy® SPA Caudalie Marqués de Riscal introduced the concept of wine therapy, offering guests the vast benefits of the vine and grape through uniquely designed treatments.
TRIP #2: connect with your mind and your belly in a holistic self-care journey.
Sometimes you just need a break to focus on yourself, take some time to fill up the good ol' battery and find the head space to keep on going. What better way to achieve our spiritual mission than to follow the French way of the Camino de Santiago from its first stop in Saint-Jean-Pied-de-Port down to the third stop in Logroño?
Sometimes it's not about the destination, it's the journey that matters. In this case, both will bring you happiness. I invite you to follow in the steps of famous artists such as Paulo Coelho and Martin Sheen, but with an indulgent gastronomic twist!
From inspiring cheese to Buddhist mantras, this journey will allow you to take care of your mind and body both.
To properly enjoy this trip, I recommend that you rent a car from your airport or train station of arrival, and plan at least 3 nights and 4 days.
A return to the roots, at the feet of the Pyrenees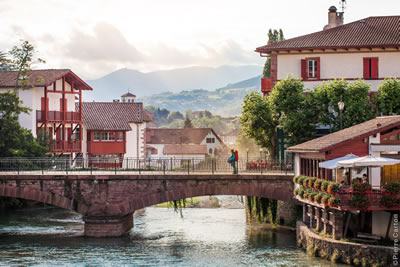 Saint-Jean-Pied-de-Port, a small town on the river Nive that looks like the TV set of an historic French movie. Many of the buildings are very old, built of pink and grey schist, and retain distinctive features, including inscriptions over their doors.
Saint-Jean-Pied-de-Port. Photo credits: Pierre Carton
The town has traditionally been an important stop for pilgrims on the Way of St. James to Santiago de Compostela. It is the last stop before the arduous crossing of the Pyrenees. Pied-de-Port means 'foot of the pass' in Pyrenean French.
The town itself is charming and worth a day of quietly exploring its streets, appreciating the relaxed atmosphere, the basque architecture and the picturesque little shops. Make sure to stop by the Porte St-Jacques, the city's monumental door which was added to the UNESCO World Heritage Sites in 1998.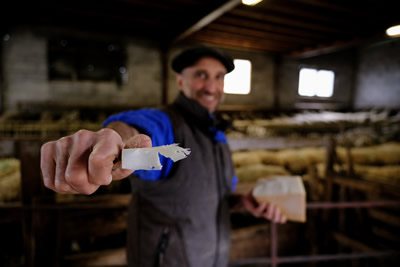 Let's not kid ourselves though… Culture and history are a must, but my stomach is starting to growl and it's time to enjoy the other great thing about this place, and the true reason I brought you here: cheese!
Some find spirituality in religious pilgrimage, others find it in cheese! I'm not joking. Any cheese-a-holic – like myself – will tell you that cheese is sacred and can absolutely lead you to a moment of epiphany.
Especially when it's the "best cheese in the whole wide world" we're talking about.
On the outskirts of the town you will find the Coopérative Laitière du Pays Basque where you will find a large array of local cheeses produced by the very sheep that you can see happily grazing in the surrounding greeny slopes of the Pyrenees.
Art, wine and buddhist mantras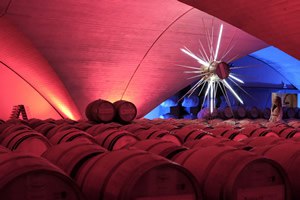 For the next stop on our journey, I am taking you across Navarra, through wonderful landscapes and magical towns, with a stop in Otazu for a very unusual experience that will make you wish you could just lie there and stay forever. Well I don't know you, at least that's how I felt!
Bodegas Otazu is a magical place where wine has been elevated to the state of Art, a masterpiece so precious it needs to be lulled to sleep by the captivating chanting of Buddhist monks.
Take a stroll amongst the barrels and revel in the atmosphere, the sounds and the colours surrounding you. Walk up the stairs to discover the wine-inspired creations of local artists, contemporary art pieces that reinvent objects related to the wine production process.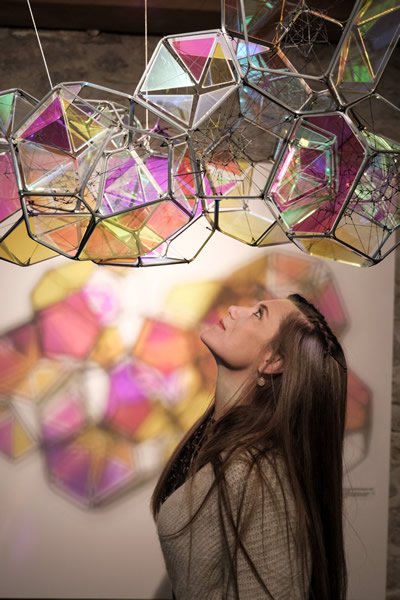 Continue your visit with an exploration of the ancient "señorio", a Renaissance palace from the 16th century now home to a museum of wine. The museum is a tribute to the evolution of wine production and harvesting techniques throughout the centuries.
In 1840, the lords that occupied the palace decided to build a winery in the style of the French castles, thus marking the birth of the first single-estate wine production in Navarra.
History, art, spirituality, and of course delicious wines, what more can one want?
A soothing bath sound amongst the wine barrels
I hope that you are enjoying the trip! After the variegated landscapes of Navarra, let's head down the colourful valleys of La Rioja. Our last stop is located in a small town less than 15 minutes away from Logroño, for a truly immersive experience.
Have you heard of bath sounds? Imagine meditating to the vibrations of Tibetan bowls, surrounded with the inebriating smell of oak barrels, in the expectation of a delicious wine tasting… whatever you're picturing right now, believe me: it's even better!
Bodegas Altanza in Fuenmayor, Rioja Alta, organise a number of spiritual experiences to allow you to appreciate their wine from a new perspective. Sound baths to refocus, winefulness sessions to help you reduce stress and anxiety or tai-chi lessons amongst the vids to find your balance, different options are available throughout the year.
Let me not forget to mention the loveliness of the place and its garden, put together by a group of friends with a shared dream. So if not everyone in your group is up for some soul-searching and would prefer a traditional visit of the estate and a wine tasting in the garden instead, they'll have a great time just as well!
TRIP #3: Ocean waves and snowy slopes, the great outdoors await!
While the previous plans are best enjoyed any time of the year but in the winter season, this one is perfect from October through March, especially for those of you who enjoy a bit of physical activity.
There are many advantages to a short winter holiday. First of all, less tourists! Secondly, snow, snow and more snow!
So this journey is all about appreciating those times when the weather gets moody and nature gets a bit wilder. A short holiday to escape the hectic everyday life for a moment and become one with nature.
A hot foamy cocoa in the mist by the ocean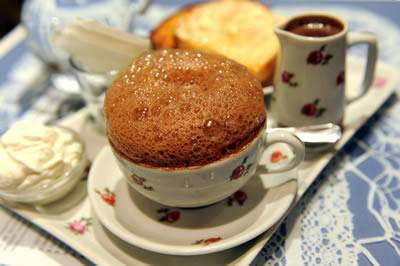 Enjoying the beach in summer is so cliché! Sure it's nice to feel the sun on your skin, surf the ocean waves and have seafood on an outdoor terrace… Yet, there is something profoundly poetic and fascinating about the beach in winter. Maybe it's because the sky gets lost into the ocean, creating infinite shades of grey (much better than the novel I'd say!). Or maybe it's because you can get lost in contemplation, time standing still, leaving all troubles behind.
Our first stop on this journey is in Bayonne, on the coast of the French Basque country. The houses built in grey stone give the town a melancholic feel, contrasted by the extravagant refinement of its shops and myriads of chocolate shops.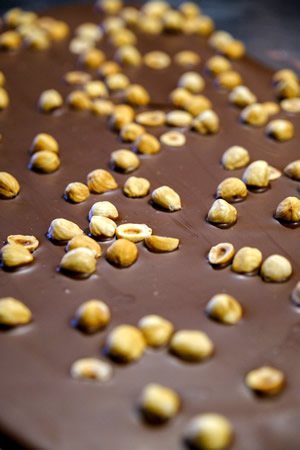 I invite you to stop at Cazenave, a traditional chocolatier with a tea room where hot chocolate is a serious tradition. Everything is handmade, including the foam, in the very same way as it was back in the 17th century when Anne of Austria, daughter of the King of Spain married Louis XIII and introduced the chocolate to the French aristocracy. Soon, beneficial virtues were attributed to chocolate, thought to be a remedy against anger and bad mood. We couldn't agree more!
In the same street as Cazenave, in rue Port Neuf, you will find many other delightful chocolate shops, each worth a visit. Next door, at l'Atelier du Chocolat, you will be able to enjoy a demonstration of "tablage", the art of creating a thin layer of chocolate covered in nuts, dry fruits, spices or whatever inspires the chocolatier in the moment.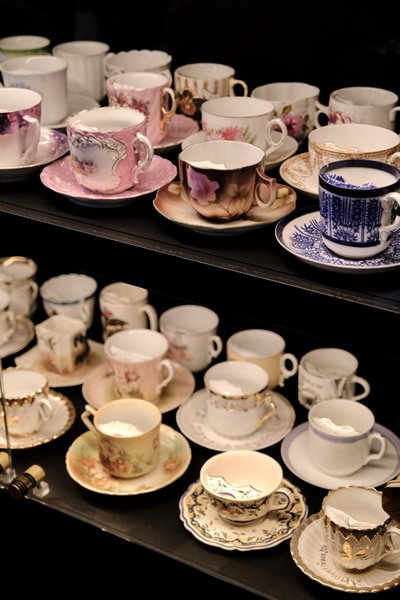 Climb up the street towards the cathedral and you will find the marvellous shop of Puyodebat. From the entrance, you will be seduced by the combination of chocolate truffles of all sorts on display and delightfully decorated ancient china cups lined up on the walls. Adventure towards the back room and up the stairs to discover a lovely red room full of historic instruments used for chocolate-making, ancient portraits and exquisite porcelain decorations.
Surf the waves, real and virtual!
After so much chocolate, it's time to shed some calories! Are you up for some virtual surf?
First of all, let me tell you that there's no season for surfing. In Biarritz, just a few minutes from Bayonne, you can surf the Atlantic's ocean waves all year long. But if it gets really cold or rainy, we understand that it may not be the most appealing. Worry not, the Cité de l'Océan museum has found the solution: virtual surf!
Perched on a surfboard, you will be taken through a 5D virtual reality experience that engage all of your senses. You will feel the wind on your face as you speed up and the thrill of losing balance as the waves carry you. A great way for children and hesitant wannabe surfers to have their first try at surfing… and maybe get motivated to get out there for the real thing!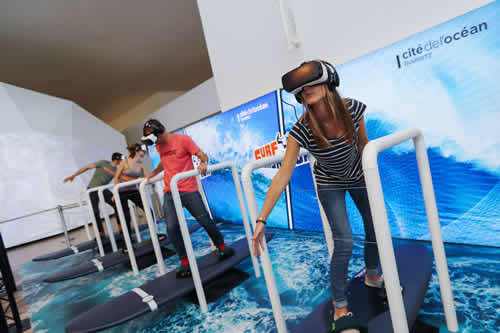 Photo credits: Euskalpass.com
The "City of Ocean" offers many other interactive experiences for all ages, including a breathtaking virtual dive into the depths of the ocean, educational 3D movies, and a stunning 360º virtual reality animation with guaranteed thrills.
A little tip: for easier access to most museums and cultural centres in the French Basque Country, get the Euskal Pass for 48 hours.
From riding the waves to riding the slopes of the Pyrenees
For a perfect finale to your short holiday, head over to Bearn, up the snowy peaks, for a day of proper nordic experience! I bet you never imagined you could sleep in an igloo or take an outdoor bath in the middle of the mountain in the south of France, did you?
This last experience on your journey should be on everyone's bucket list. These crazy passionates of all things nordic have decided to bring the great North to Laruns in Béarn, a small town hidden in the middle of the Pyrenees mountains, on the way to Spain.
Do you know what Snake Gliss is? What about Yooner? Don't worry if you don't, I didn't either until I discovered the Aventure Nordique. The Snake Gliss is basically a train of sleight attached together. The first one pilots while people sitting in the individual sleighs behind can just enjoy the ride. The further down the line you are, the higher the adrenaline level as you end up bouncing from one side to the other at high speed. Hold tight!
The Yooner is an elevated sleigh that you ride kind of like a bumper car… You know what? I can never explain it properly. As they say, a video is worth a thousand words, so here it is:

If you are in for a more traditional type of fun, Laruns offers multiple ski-resorts for you to ski or snowboard at will.
And after all this intense effort, why not relax in the sauna, followed by a jump into the snow and a bath in the outdoor pool. Great to do with friends, family, alone or with your beloved. This is simply a marvellously enjoyable experience no matter the company.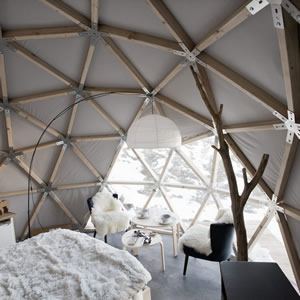 Finally, to make your last night before the return to reality truly memorable, why not sleep in a tipi tent or an igloo.
The company that organises all these activities also provides a delicious dinner composed of a variety of local products. Start with a glass of sweet Jurançon wine from a local producer, followed by some garbure (a local ham and vegetable soup – perfect to warm up on a cold winter night), duck with roasted potatoes, and of course some Ossau-Iraty cheese and Madiran wine.
This is it! Three short trips for all styles and all seasons. As you see, you can come time and time again to VISITGastrOH! and never fall short of things to discover and new unique products to taste. I hope you enjoy these recommendations, but I also invite you to check out my other articles for more tips and ideas so that you can create your very own plan.
Get planning and see you soon!