The Michelin guide, also known as the red guide, is a true reference in terms of gastronomy and hospitality. Many chefs spend their life striving to obtain a Michelin star and very few of them ever get the top rating of three stars.
With over 600 stars, France is by far the country with the highest number of Michelin-starred restaurants in the world, while Spain proudly holds the 5th spot.
While cities like Paris and Madrid hold a reputation as hubs for Haute Cuisine, some of the most star-rich areas are to be found outside of the capital cities. In particular, the 3 territories of La Rioja, the Spanish Basque Country and the French Basque Country alone boast as much as 50 Michelin-starred restaurants. In fact, La Rioja holds the title of region with the highest number of stars per inhabitant in Spain!
What is a Michelin star and how to get it?
Michelin stars are a symbol of excellence in gastronomy. They are a recognition given to establishments – rather than chefs – for the quality, innovation and creativity of their establishment. But stars are also a way to encourage restaurant owners (who are often chefs) to surpass themselves and bring constantly new propositions.
Some chefs spend their lives trying to achieve even one single star and for that, rigour and perseverance are essential.
During their visit, the Michelin judges must remain anonymous and pretend to be a completely normal client as to avoid distorting the authenticity of the service.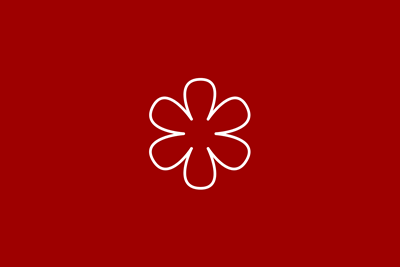 The judging criteria are extremely precise and the exact same for any place anywhere in the world. Restaurants will be judged on the quality of their products, the mastery of cooking and flavours, the creativity and personality of the chefs in their dishes, the quality of service provided and finally the quality/price ratio. In addition, other elements come into play such as the atmosphere, the decoration, the menu, and much more.
As you can see, it's not so easy to get into the pages of the red guide, especially as restaurants don't know when or how they will be judged. It is even possible that they will lose their stars after a certain period of time if the establishment no longer meets the criteria. A true Herculean task!
Why does VISITGastrOH! collect so many Michelin stars?
VISITGastrOH! has no less than 52 Michelin star restaurants and a total of 200 establishments recognized by prestigious publications, such as the Michelin Guide, the Restaurant Magazine (The World 50 Best Restaurants), the Repsol Guide or Master Restaurateur.
With such an impressive palmares of titles, one cannot help but wonder if the area has some special winning recipe.
In fact, we can safely say that a variety of factors contribute to the region's success.
High quality ingredients
There is no doubt that the base for any great recipe is great ingredients. VISITGastrOH! has been created as a gastronomic destination in part because the five territories share a passion for food and a constant strive to produce high-quality products that are indigenous to the land, tasty and chemical-free. Fruit and vegetables are grown organically; the fish is caught fresh every day; there are numerous free-range farms providing dairy products… Every single small producer and manufacturer plays a part in giving our chefs the tool to create the most delicious authentic recipes.
High level culinary schools
Having the best ingredients is not enough though. We also need highly skilled chefs that possess the know-how and craftsmanship to transform these ingredients in innovative and creative ways. The region hosts 2 world-famous culinary schools: The Basque Culinary Centre and the Camino de Santiago Hospitality School.
Many starred chefs were trained in these schools and still teach there nowadays, passing on their skills and passion to the next generations.
Culture and tradition
Last but not least, it does make a difference when you grow up in a land where passion for food is everywhere. Being taught to appreciate a diversity of flavours and aromas from a young age, being raised in the respect of the land and its products… These are fundamental in encouraging new generations of chefs with a true passion for the culinary arts.
From the farms to the vineyards and the architecture, everything in VISITGastrOH! is an ode to gastronomy, an invitation to appreciate traditions but at the same time explore new combinations. Here it is good to be daring and adventurous, to play with tastes and be creative with food. Here's a culture that is never afraid to reinvent itself to go further.
It's no wonder then that more and more famous chefs are opening restaurants in this region where both locals and tourists cannot wait to try all the flavours of the world.
VISITGastrOH!, a land of accessible haute cuisine
Sure quality and innovation comes at a cost, and most Michelin-starred might not be something you go to everyday, but for a special occasion or a well-deserved moment of indulgence, they are truly worth the price tag.
And to be honest, it might not always be as costly as you may expect! Indeed, the region has plenty of 1-star restaurants that will accomodate a 50eur per person budget. So why not give yourself some love and reserve at least one night on your trip for a truly remarkable experience?
Floral kiss in Mugaritz – two Michelin stars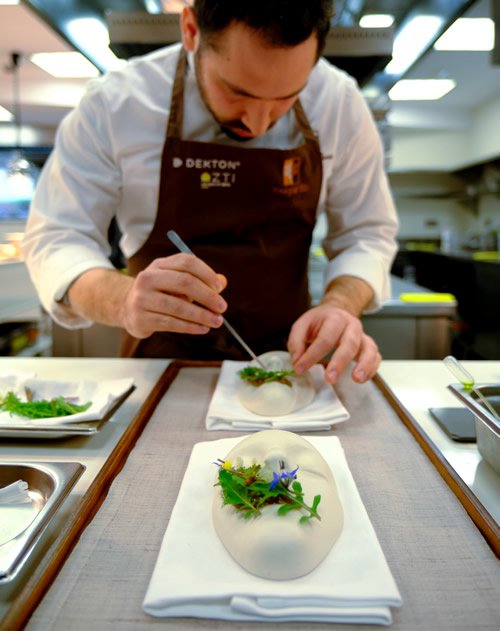 Twenty minutes away from San Sebastian, nested in a picturesque garden, a traditional Basque country house holds the secrets to the most avant garde cuisine.
Playful and highly innovative, the cuisine of Chef Andoni Luis Aduriz is an art form that aims to open not only mouths but also minds.
Here at the Mugaritz, gastronomy becomes an intellectual exercise as the menu carries you through up to 30 different dishes that constantly change according to the seasons and defy your very perception of tastes.
With emotive names such as How Long a Kiss Lasts or Depends On How I Look At It, the dishes offer a new perspective onto food and explore new ways of eating: with your hands, your eyes, or through a kiss.
If you are interested in transforming your dining experience into some sort of a walk through a museum, this place is for you!
Three Michelin stars for an unconventional approach to traditional at the Akelarre
There are only very few restaurants in the world to hold three Michelin stars. It is a feat that few chefs achieve, generally after years and years if not decades after decades of dedicated work. Here is for you a restaurant that has not only managed to achieve, but also maintain, three stars since 2007!
Chef Pedro Subijana of the Akelarre is the culinary genius behind this success based on the provision of traditional yet absolutely exceptional cuisine where each bite becomes an explosion of flavours in your mouth.
As of 2017, a hotel has been added to the restaurant to offer rooms, a spa and a new bar and restaurant area with large terraces. The entire place is designed to regal your senses… all five of them!

A couple for the win at Les Rosiers – one Michelin star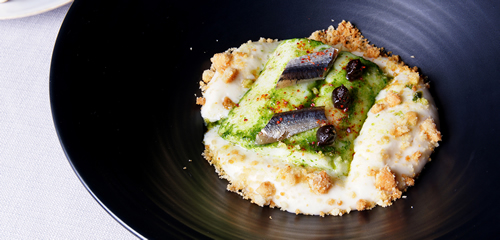 I promised to give you a few options for every budget, so here is one for the tighter wallets. With a price range between 60 and 125€ per person, and a degustation menu at 95€, the restaurant Les Rosiers in Biarritz on the French Basque coast is the perfect place for a special occasion.
The chefs Andrée and Stéphane Rosier invite their guests to discover the true flavour of local products cooked with a touch of exoticism to take you out of your "taste comfort zone".
El Molino de Urdániz in Urdaitz – two Michelin star
The chef David Yárnoz  is capable of making impossible and stunning harmonies, which stands out for his sensitivity and creative lucidity. Thanks to its leadership, the Molino de Urdániz has become a reference in the cuisine of Navarra and our country, it has two Michelin stars and two Repsol soles.
The atmosphere of the establishment conveys a warm, family atmosphere with a creative and surprising touch.
Are you feeling traditional or adventurous? Here you can choose between the eleven courses of the proven Classic menu or the fourteen courses of the everchanging Evolution menu. Whatever option you choose, you are guaranteed to be taken on a sensory journey that will allow you to rediscover the true richness of local products.
Open fire and revisited traditions in Nublo, Logroño – one Michelin star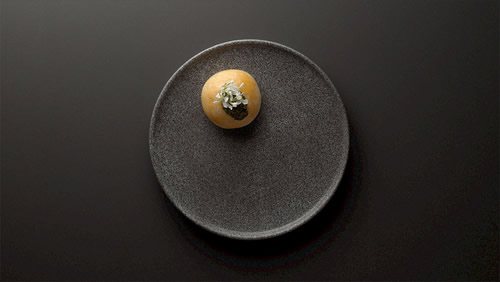 La Rioja, closely followed by the Spanish Basque Country, holds the highest number of Michelin stars per inhabitant in Spain.
One of its latest additions to the palmares is the restaurant Nublo in Haro which acquired its first star in 2021.
In Nublo, chef Miguel Caño defends daring combinations based on the reformulation of traditions.
Here, the electric or gas stoves are replaced by live fires and everything is slow cooked on the grill. Ingredients are carefully selected from local producers and dishes are skilfully paired with local La Rioja wines. A true delight for slow food lovers.
Caribbean and Spanish fusion at Ikaro – one Michelin star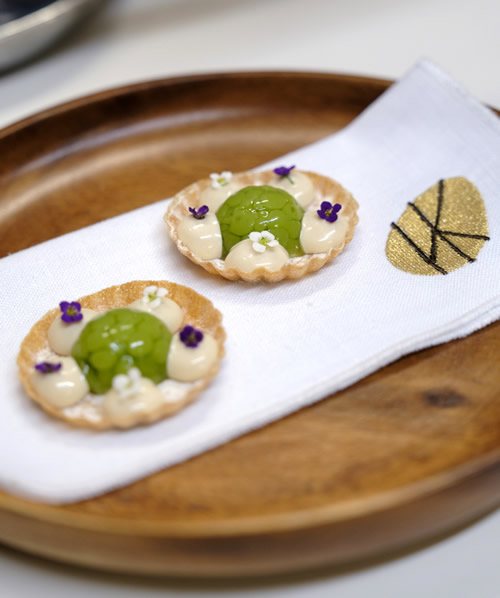 Last but not least, I invite you to cross culinary boundaries at the Ikaro restaurant in the centre of Logroño.
Power couple Iñaki and Carolina met at the Basque Culinary Centre and found that their love for food only had a match in their love for each other. They soon decided to bring their talents together and take advantage of their roots in Spain and Ecuador to create beautiful fusions of flavours and colours.
The cuisine here is an updated take on traditional and regional dishes, with an emphasis on careful presentation and seasonal ingredients.
Bonus track! If you enjoy the occasional cooking show, then you've probably heard of Masterchef. Chef Carolina Sanchez, who is the only Ecuadorian chef with a Michelin star, was part of the jury on MasterChef Ecuador in 2019. A true star with a star!