VISITGastrOH! is always about transforming the act of eating into the art of experiencing your food. Not in a grand stuffy way, mind you. I'm talking about wholesome, fun, exciting and memory-making experiences that you simply cannot miss!
Welcome to a different kind of gastronomic trip for all ages, all wallets and all tastes.
The Rioja and the five senses
Let's start our gastronomic journey the right way, shall we? Yes, I'm thinking "wine, wine and more wine", of course!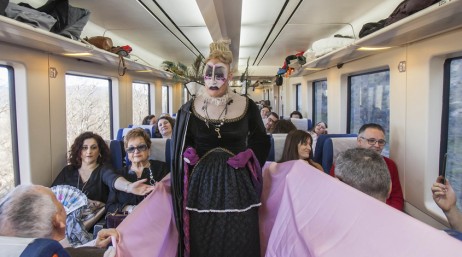 September is of course an amazing period to come to La Rioja and participate in the Harvest Festival or simply admire the locals at work. But La Rioja is all about appreciating wine all year long. Which is why the province organises 5 immersive wine tastings in 5 different months: March, May, June, September and November. Five months, each dedicated to a different sense: sight, hearing, taste, smell and touch.
Every year, the programme of the tasting series "La Rioja y los 5 sentidos" includes different themes and original activities such as theatrical wine tastings, concerts in cellars, family activities or even a wine train to Haro where actors in period costume will take you on a tour of the region's oenological history and culture.
Everything here is far from the typical stuffy wine tastings, allowing you to get a fully memorable experience while learning to appreciate wine like a true connoisseur.
Try out unique beer flavours at the Kondaira brewery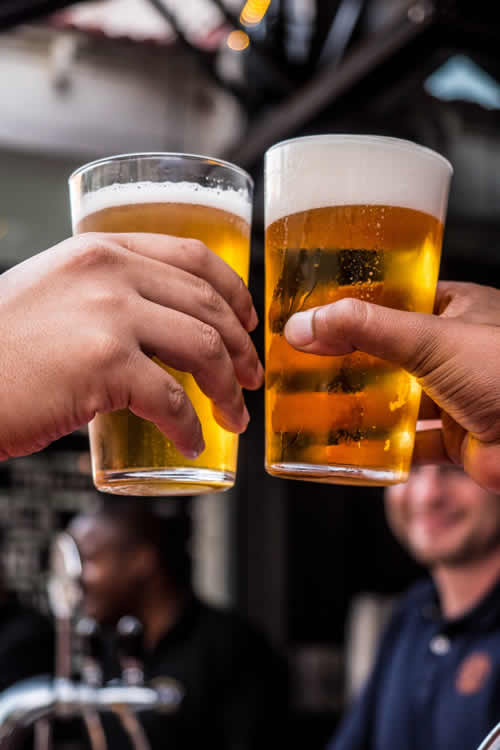 In keeping with the theme of discovery and tasting, let's cross over to the region of Navarre, which you may know from the San Fermines. Navarre is not only crazy cool for its running with the bull. Its delicious local craft beers infused with the most unusual flavours contribute to making it totally worthy of that title – in my own personal wall of fame at least!
Drive an hour or so from Pamplona to the Kondaira brewery in the town of Mendavia and take a pick at your favourite flavour. Will it be liquorice, passionfruit, chamomile or shall you go bold with some charred barley? There are many more flavours available but I don't want to spoil the whole surprise for you.
It is worth mentioning that Mendavia is the richest city in Spain in terms of products with designations of origin. So it is not surprising in the least that the Kondaira ingredients are 100% natural and locally-grown in Navarrese soil, which is what makes the drink so unique. You'll let me know what you think!
An experience high in truffle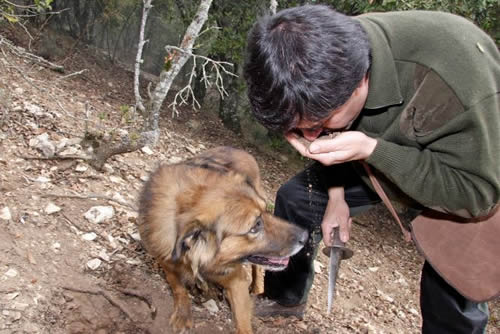 After all this drinking, you might be ready for a nice snack. Why not try something rare, precious and well… a bit stinky? I'm talking about the famous black truffle, deemed the Black Diamond of the kitchen.
At the Navarre Truffle Museum, visitors are invited to join on a walk or bike ride through the flora and fauna of the truffle forests in the region of Tierra Estella. You'll then be invited to  enjoy a lush tasting of truffled products.
But if you are a true truffle fan, why not come visit in December for the Truffle Festival or "Feria de la Trufa Navarra" which offer an ample variety of activities where the precious mushroom is given the full attention it no doubt deserves.
The festival is held in Orísoain, a delightful little village of barely a 100 inhabitants where you can also visit the church of San Martin de Tours and its beautiful crypt.
A workshop of traditional Basque cuisine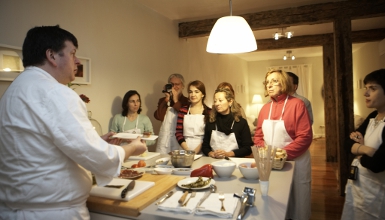 Here's a cooking workshop that will put a smile on your face, besides teaching you some brand new recipes for you to take home.
First of all, the place is amazing! Located in Pasai Donibane at the foot of the mountain of Jaizkibel, the terrace of the Ziaboga restaurant offers a beautiful view of the Atlantic, to enjoy at its best while tasting the result of your hard work.
Here the chef will show you how to make some of the most famous dishes in traditional Basque cuisine, such as "chipirones" (small squids in their ink) or hake in green sauce.
If you're lucky and the weather was good enough to allow fishing, a veteran squid fisherman will join the workshop to show you his catch and tell you some anecdotes from the sea.
With the food freshly prepared and the table laid, it is time to go into the dining room and enjoy a delicious meal with your compagnons of adventure.
Adopt a snail
After some truffles and chipirones, let's get adventurous with some yummy gooey snails.  Either you hate them or you love them, but either way, you've got to try them – at least once! And why not even… farm them?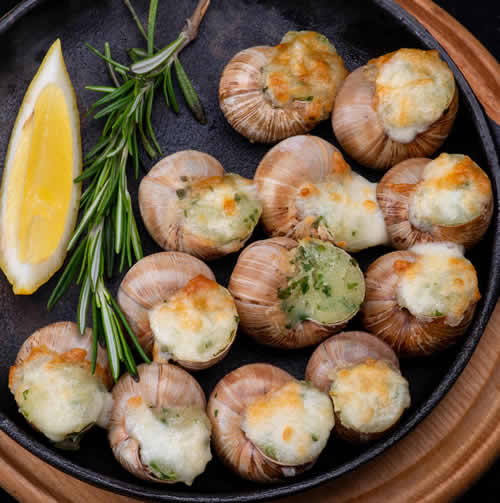 You might not think farming snails is all that but one should not underestimate these little creatures! Having a snail farm is not that easy: the process is long, involving different phases from reproduction, hibernation, and feeding to the creation of a whole habitat for their optimal breeding.
To find out more, go to Lannecaube, a 40-minute drive from Pau, and visit the Routis-Cabé family's snail farm.
After your visit to the farm, you can go to the shop to buy some specialities and leave with fresh, cooked or frozen snails.
Book a tour and try an experience you won't find elsewhere!
4in1 antiquity shop, florist, exhibition room and restaurant in an idyllic setting
If there's one thing nobody can deny the French people is their ability to make any place look like out of a movie set. Their eye for detail and love for artistry allows them to create the most enchanting and picturesque settings.
The multi-faceted domain of Gaztelur, just outside of Biarritz, is a prime example of the French's refinement. Here is a place, lost in greenery, which combines Haute Gastronomy with nature, art and history.
Gaztelur means "house on the water" in Basque. While it is not actually on water, it is immersed in the most picturesque garden, surrounded by greenery and flowers. A true impressionist painting brought to life by the fantasy and dedication of the owners.
The old mansion hosts a collection of carefully selected antiques which give this unique place its cachet. The originality of the decoration is magnified by the floral compositions of Mar Lopez, florist and artist who offers 3-hour group workshops for up to 6 people.
What a lovely moment you'll have here! Learning the art of combining flowers to create a magnificent composition is relaxing, healing… and tasty too! Indeed, no Basque worthy of this name would ever leave you on an empty stomach! So you can be sure to be provided with a delicious snack and hot beverages.
If you're still hungry after your workshop, head over to the on-site restaurant run by Michelin star chef Fabrice Idiart who reinvents popular dishes with quality local products as well as vegetables and honey made on location. The dining room opens onto the park for a truly delightful and ever-more picturesque experience.
The macaron factory
No meal is complete without a sweet ending. Here's for dessert a specialty of the French Basque Country that is just the right bite-size: macarons!
These are not to be confused with the other famous French macarons, which are filled with flavoured cream and brightly coloured. The Basque macarons are fluffy round bites made without flour.
Rather than the typical grab-and-go of our every-day life, why not take the time to enjoy the process and appreciate the ancestral technique and know-how that make this ancestral sweet a pure delicacy?
Let's head over to one of the most beautiful villages in France, La Bastide-Clairence, located only 25 minutes drive from Bayonne to visit the Fabrique de Macarons where everything is made according to tradition.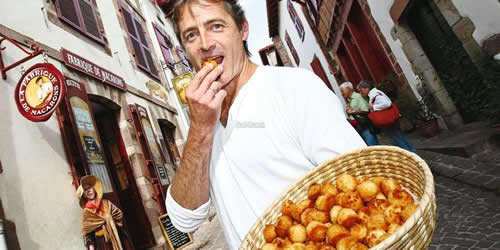 Christophe Berthold est tombé dans les macarons dès sa plus tendre enfance. photo patrick bernière © Crédit photo : Berniere Patrick
Below Zero Creamosophy
People in VISITGastrOH! take gastronomy very seriously from their amuse-bouche all the way to their digestives, be it a warm soup or a frozen ice cream. At Heladeria dellaSera in the heart of Logroño in La Rioja, you will find a small paradise for ice cream lovers. Here you can taste both sweet and salty ice creams that taste like wine, aromatic plants and other unusual – but oh so delicious! – aromas.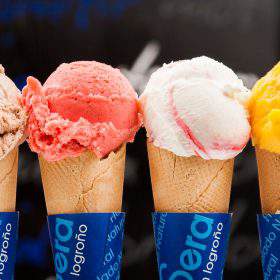 The mastermind behind this new concept of Cold Gastronomy is  Fernando Sáenz, elected best pastry chef of Spain by the Spanish Royal Academy of Gastronomy. He approaches the art of making ice cream and other frozen delicacies in the same way a chef approaches any dish, with great care for ingredients and an insatiable search for new flavours and combinations.
In fact, the ice cream shop is only the visible part of the Obrador Grate located in the countryside just outside of  Logroño. There the frozen creations are born, made with products from local producers and from their very own aromatic garden.
The result is a  true ode to frozen gastronomy. Which is why their shop has become an absolute bucket-list stop when in town! The place is so trendy that you must account for regular long lines… but I guarantee it's worth the wait!