ARDIARANA
LEGASA: BERTIZARANA ( Natural Park " Señorío de Bertiz ")
We are a young company, created in 2006, formed by the couple, Alberto Migueltorena, a veterinarian , and Ainara Ansa, an agricultural engineer .
Our professions have given us the necessary knowledge to take care of every detail to the maximum and guarantee the exquisiteness of our cheese.
Our goal has always been to make a cheese in an artisanal way, following a production process typical of the area from raw milk from our sheep.
Our sheep give birth staggered throughout the year. This allows us to obtain the same milk (in terms of the amount of fat, protein, lactose…) and thanks to that we are able to offer a homogeneous cheese to the consumer throughout the year.
We wanted to create a different cheese, soft, creamy and rooted in our roots.
The production process of our cheeses is very special. We have managed to produce, throughout the year, an artisan and homogeneous cheese; that maintains its flavor, its aromas and its nuances. Becoming an unmistakable product of exceptional quality.
Their characteristics have made them winners of a very extensive list of awards, which are an indisputable guarantee of the know-how of our family.
We make different types of cheese: Cured cheese, Smoked cured cheese, Soft cheese with bifidus, Camembertiz cheese
All of them under different commercial brands: KAMIKU, BERTIZARANA, IXARRI, SANTA LEOKADIA
Opening Hours
Monday: 8 – 18 h
Tuesday: 8 – 18 h
Wednesday: 8 – 18 h
Thursday: 8 – 18 h
Friday: 8 – 18 h
Saturday: 9 – 11 h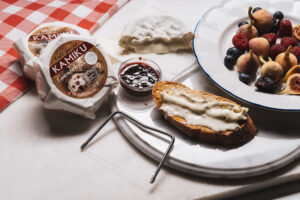 Address
PARAJE ERREKAZAR S/N
31792 LEGASA, BERTIZARANA, ES