Ganbara
(Donostia – San Sebastián)
Three generations committed to pintxo. A quarter of a century being a benchmark in the Old Part of San Sebastian.
El Ganbara was born in 1984 by José Martinez and Amaia Ortuzar on Calle San Jerónimo in the Old Town of Donosti. The couple came from working at Jose's family place, Bar Martinez, founded in 1942 on 31 de Agosto Street.
As a second generation, they continue with the family legacy while incorporating novelties and molding, together with many of their colleagues, what will end up being the heritage of all, the culture of the San Sebastian pintxo.
Gradually his three children, Nagore, Amaiur and Iulene join the family business, consolidating the third generation of a family dedicated to making pintxos, thus guaranteeing the continuity in the quality of one of our favorite customs and one of our major signs of identity.
The pintxos and dishes are made with great care and with seasonal products. Here you can find a wide variety of pintxos, as well as a menu with an extensive list of seasonal dishes to choose from.
Price: €20 - €40, 40€ - 60€
Type of cuisine: Pintxos / Tapas, Traditional cuisine
Opening Hours
Wednesday: 12:30–3:30 p.m., 7:00 p.m.–11:00 p.m. h
Thursday: 12:30–3:30 p.m., 7:00 p.m.–11:00 p.m. h
Friday: 12:30–3:30 p.m., 7:00 p.m.–11:00 p.m. h
Saturday: 12:30–3:30 p.m., 7:00 p.m.–11:00 p.m. h
Sunday: 12:30–3:30 p.m. h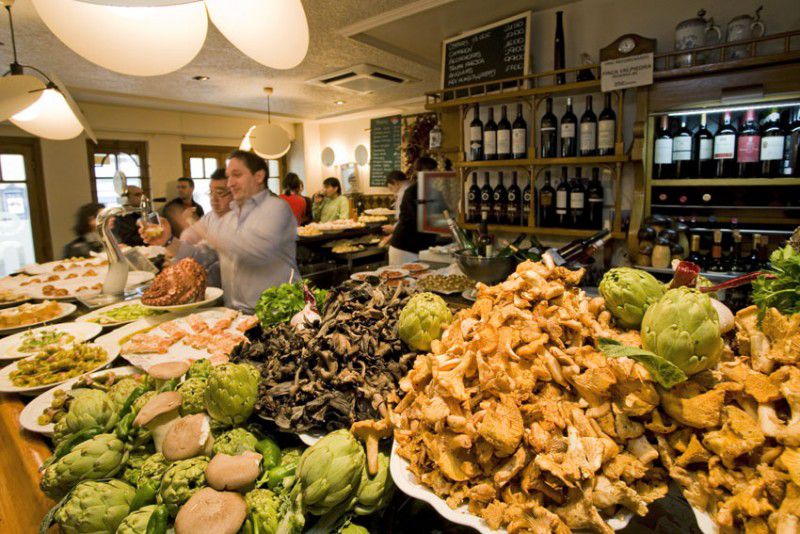 Address
c/ San Jeronimo 21
20003 Donostia - San Sebastian, Gipuzkoa, ES