ÁBACO Restaurante
(Pamplona)
Ábaco is the most absolute passion and dedication to offer a unique experience to its guests in every bite, in every detail.
Ábaco's cuisine is faithful to the product and is always at the service of flavour.
With a very marked personality, his creations combine international influences with solid Navarran roots and the legacy of Basque and Catalan cuisine that have so marked the career of his Chef, Jesús Iñigo.
Awards: 2 Repsol Suns
Facilities: Disabled-friendly, Terrace
Price: 60€ - 80€
Route to which it belongs (Eat): Haute cuisine route
Type of cuisine: Signature / Market cuisine
Opening Hours
Tuesday: 13:30 – 15:15 h
Wednesday: 13:30 – 15:15 h
Thursday: 13:30 – 15:15 h
Friday: 1:30 p.m. to 3:15 p.m. – 8:45 p.m. to 10:15 p.m. h
Saturday: 1:30 p.m. to 3:15 p.m. – 8:45 p.m. to 10:15 p.m. h
Sunday: 13:30 – 15:15 h


Closing periods: Monday Weekly Rest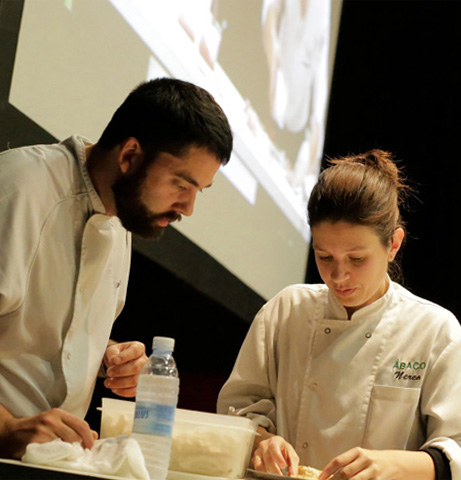 Address
Calle Juan de Labrit, 19
31001 Pamplona, Navarre, ES