NH HERENCIA RIOJA Hotel – Restaurant
(LOGROÑO)
The NH Logroño Herencia Rioja hotel is located in the heart of Logroño, less than 5 minutes' walk from the old town, the shopping area and the El Laurel area, which is home to traditional wine and tapas bars. It has been renovated in 2019 and is also located near the Murrieta fountain, one of the most emblematic tourist spots in the city.
Central location near the old town • a few steps from shops, tapas and wine bars • close to the Murrieta fountain
The hotel has 83 spacious rooms. They are all bright and modern, with sophisticated and modern decoration. They have flat-screen TVs and free Wi-Fi. Both suites include a large and comfortable living room.
Modern and spacious rooms with lots of natural light• Free Wi-Fi• two luxury suites
The Brasserie Zarcillo restaurant is a fantastic place to try the cuisine of the area, without forgetting the fruity Rioja wines, in a functional and modern environment, which extols the region where it is located. We have a cozy lobby bar, a fireplace you can relax in front of, and a co-working space if you're here on business. Private parking available outside the hotel.
Restaurant serving typical La Rioja dishes and wines • lobby bar • private parking • if you are planning to stay with us over the weekend, book directly at nh-hotels.es, sign up for NH Rewards and take advantage of the "Lazy Sundays" offer which includes free late check-out on Sundays (until 3:00 p.m.).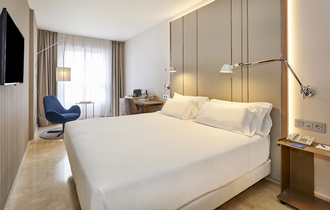 Address
Calle Marqués de Murrieta nº14
26005 LOGROÑO, LA RIOJA, ES