Garrarte Donostia
Donostia, San Sebastián
We are a company of artisan sweets, the fourth generation of artisan confectioners, since 1880 we have been sweetening their lives . Our great-grandfather began to make them, passing on the love for sweets generation after generation.
Since we were very young we have always found ourselves surrounded by sweets, the time of the pilgrimages and festivals of the surrounding towns arrived and in our houses there was movement and of course we all had to collaborate. We sisters remember our childhood with great tenderness. How our parents got into the "bajera" and placed the saucepans with water, sugar and vegetable color, started to prepare all kinds of traditional candies, figurines, hammers, lollipops, lollipops, lollipops… In short, a multitude of sweets.
They have always told us how when they were very young they were left without a father (in fact my mother was born 15 days after shooting my grandfather), but that our grandmother Cirila, a great woman, took out all her children, who were not few ( 12 births) forward working very hard with the sugar. This was the legacy that my grandfather Santiago had left her, she had learned to make everything: from candies to pastries, wafers, ice cream… all kinds of sweets.
From a very young age, he prepared a basket for them that they took to the station and got on the train (some made the Tafalla-Castejón route and others Tafalla-Pamplona), there they sold and returned home with the proceeds. They also went to pilgrimages, parties and other soirees to try to sell their products and thus they transmitted their love for sweets and they to us.
Our grandfather Santiago inherited all his knowledge from our great-grandfather Pablo. After many decades of working together, our parents (who are brothers) and after teaching us the trade, we decided to follow in their footsteps, we traveled the entire geography holding craft fairs, medieval markets and festivals.
We have done countless courses to continue learning (Paris, Barcelona, Brussels… etc). We belong to the Artisan Food Association of Navarra, Reyno Gourmet and Singular Dendak of Gipuzkoa. A few years ago we decided to start a business and opened a store in the heart of Iruña on Calle Estafeta, in which we are delighted thanks to our customers. We make all kinds of sugar-coated candies, candies, nougats, jellies and chocolates, always with a lot of love and the best raw materials. Then we did it in the old part of Donostia on Calle Puerto, next to Plaza de la Constitución.
Type of sales establishment: Confectionery / Chocolate, Markets with producers other than the municipal market
Opening Hours
Monday: 11:00 – 21:00 h
Tuesday: 11:00 – 21:00 h
Wednesday: 11:00 – 21:00 h
Thursday: 11:00 – 21:00 h
Friday: 11:00 – 21:00 h
Saturday: 11:00 – 21:00 h
Sunday: 11:00 – 21:00 h


Closing periods: January 1 and December 25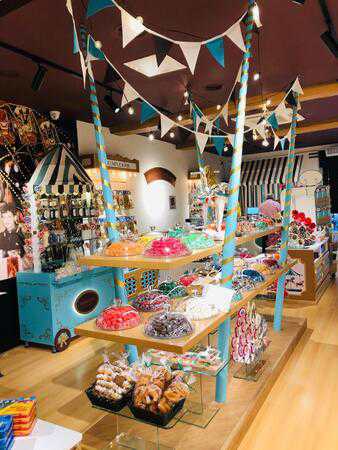 Address
Puerto Kalea, 3, 20003 Donostia, Gipuzkoa
20003 Donostia, Gipuzkoa, ES