FINCA DE LOS ARANDINOS Hotel Bodega
(ENTRENA)
Finca de los Arandinos is a unique project in La Rioja . It is the first four – star hotel in the region with a spa and restaurant integrated into a winery . A suggestive and inspiring space that has interior design by David Delfín and is surrounded by vineyards, olive trees, fruit orchards and mountains.
East tourist, oenological and gastronomic center , which sits on top of a 6-hectare estate, invites you to enjoy the beauty of the landscape, which seeps through the building's windows in the form of natural tapestries. An architecture that signs the Riojan Javier Arizcuren, where materials such as concrete, glass, and wood draw straight lines that convey calm and contrast with the exuberant landscape of the surroundings.
In the Finca de los Arandinos winery , the grapes from the family vineyards are made. In it, a simple technology has been used, which in a traditional way, allows the production of high quality wines, with the utmost respect for the grape.
In the winery, guided tours are organized with a wine tasting, where winemakers accompany visitors through the exciting world of wine culture.
The Finca de los Arandinos hotel has 14 rooms , four of them above the barrel shed and decorated by Javier Arizcuren.
In addition, David Delfin , in collaboration with AKA Estudio , was in charge of the interior design of the remaining 10 and defines them as transformable rooms that surprise the visitor with a new detail as many times as he occupies them.
The renowned fashion designer also displayed his imagination in different spaces such as the reception, the gazebo or the restaurant .
In our Tierra Restaurant, you can enjoy our dishes in a quiet place, whose menu is made up of dishes made with 'zero kilometer' products , that is, producers less than 100 kilometers away who dedicate their lives to getting the best out of the Riojan land. .
It is also worth mentioning another area of the hotel, the spa at the foot of the vineyard . A corner with spectacular views dedicated to relaxation, where the guest can enjoy a dry and wet sauna, a cyclonic shower with aromatherapy, a foot bath, hot and cold bubble pools, a massage room with wine therapy and a terrace – solarium where you can contemplate peace of the nature.
In an adjoining space is 'La Vinería' , a multifunctional building with two floors where you can hold company presentations with catering, group meals or friends who gather by the fireplace to enjoy the typical Riojan barbecue with vine shoots.
Type of accommodation: Hotel
Closing periods: does not close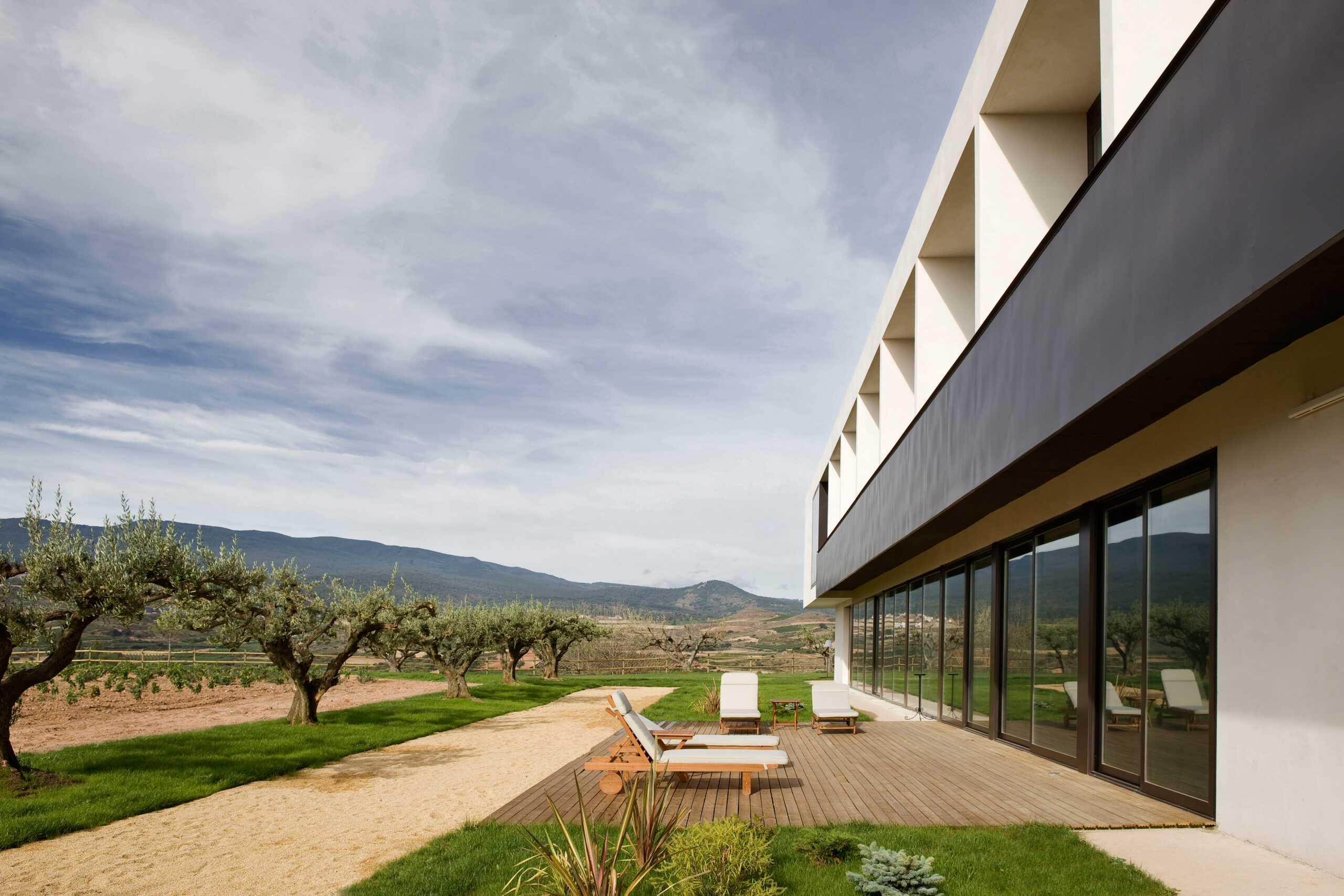 Address
CARRETERA LR 137 KM 4,6
26375 Entrena, La Rioja, ES