eMe Be Garrote
(Donostia – San Sebastián)
eMe Be Garrote is Martín Berasategui 's restaurant in San Sebastián, awarded with 1 Michelin Star and 1 Repsol Sun.
Located in a natural environment in the neighborhood of Ibaeta, with a contemporary and "Euskandinavian" style decoration, the chef from San Sebastian revives his origins, offering a wisely updated signature cuisine, based on products, pampered over the fire and full of flavour.
A young team, led by Rafa Moya in the room management and Javi Izquierdo in the kitchen, await you with open doors to enjoy a great experience.
Awards: 1 Michelin star, 1 Repsol Sun
Facilities: Car park, Disabled-friendly
Price: 40€ - 60€
Type of cuisine: Signature / Market cuisine, Special diet menus, Traditional cuisine
Opening Hours
Tuesday: 13:00-15:00 – 20:30-22:00 h
Wednesday: 13:00-15:00 – 20:30-22:00 h
Thursday: 13:00-15:00 – 20:30-22:00 h
Friday: 13:00-15:00 – 20:30-22:00 h
Saturday: 13:00-15:00 – 20:30-22:00 h


Closing periods: From September 6 to September 14 and from December 20 to January 11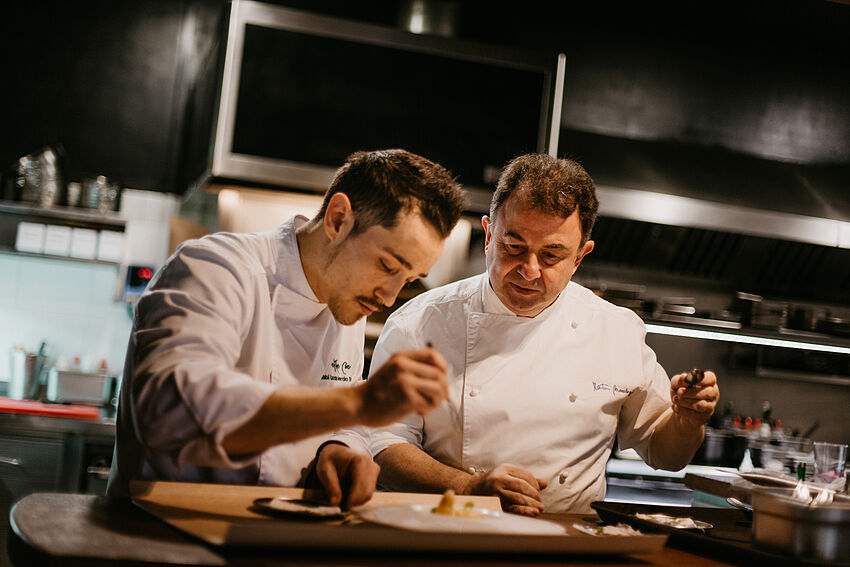 Address
Camino de Igara, 33
20018 Donostia - San Sebastián, Gipuzkoa, ES