Santo Domingo Market
(Pamplona)
The oldest market in the city of Pamplona is naturally located in the old quarter of the city, preserving within its walls remains of the history of the capital of Navarra.
The Santo Domingo market is installed between the Santiago and Burgos squares, parallel to the famous hill to which it owes its name, the Santo Domingo hill.
It is a traditional market located on a central rectangular patio with countless stalls of different kinds where they offer the best products of our land: lamb from Cuenca, vegetables from the orchards of Magdalena and Ribera de Navarra, beef from the Mountain.
But not only traditional products from Navarre cuisine: tropical fruits, fish from the Bay of Biscay and the Mediterranean, cheeses from the most diverse denominations of origin.
Part of the daily routine of the people of Pamplona is to visit the market to acquire a large number of exquisite and quality products.
Since 2004, the merchants themselves have managed the market and its interior is made up of a supermarket and 45 individual stalls that offer products from Navarra.
Accessibility: Disabled-friendly
Opening Hours
Monday: 8:00 – 14:00 h
Tuesday: 8:00 – 14:00 h
Wednesday: 8:00 – 14:00 h
Thursday: 8:00 – 14:00 h
Friday: 8:00/ 16:30 – 14:00 / 20:00 h
Saturday: 8:00 – 14:00 h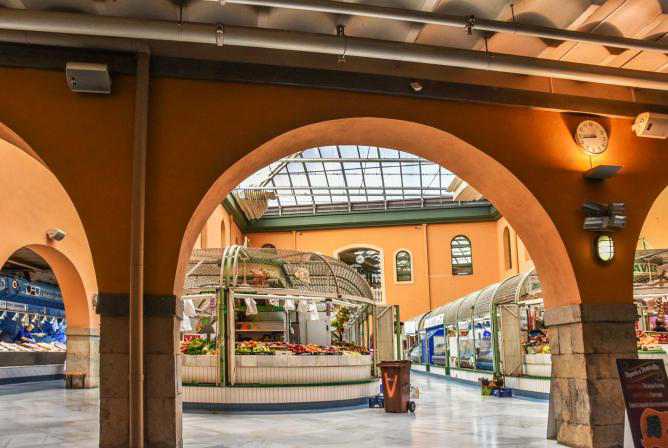 Address
C. Market, 79
31001 Pamplona, Navarre, ES